Complexities in the spatial scope of agglomeration economies
CPB Discussion Paper 376, 28 February 2018
This article argues that the spatial scope of agglomeration economies is much more complex than is often assumed in the agglomeration literature. We provide insight into this issue by analyzing panel data on individual wages with a high level of spatial detail.
Complexities in the spatial scope of agglomeration economies
36 pages | pdf document, 4.2 MB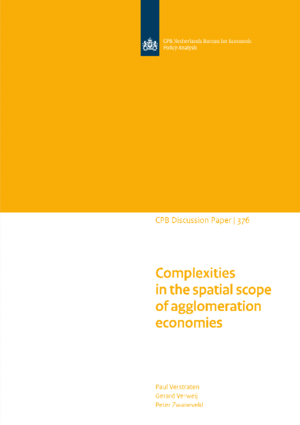 The results show that agglomeration on short distances (<5 km) does not significantly affect wages, whereas it has a significant and positive effect on medium distances (5-10 km). This effect attenuates rapidly across geographic space, becoming insignificant after 40-80 km. These results, however, do not imply that nearby agglomeration is irrelevant for productivity. Regions must meet a critical threshold of nearby agglomeration in order to benefit from agglomeration on further distances. Furthermore, this article finds no evidence that foreign economic mass affects wages in the Netherlands, which suggests that national borders are still a substantial barrier for economic interaction.
This article is a revised version of a paper published in February 2017. The original version of the article can be found here.