Estimating the Impact of Forced Sales on House Prices
CPB Discussion Paper 304, 10 March 2015
We study the price effects of forced sales on the Dutch housing market. A forced sale may result in a lower transaction price because of e.g. suboptimal incentives for revenue maximization. The lower transaction price may also spill over to regular (unforced) nearby transactions.
Estimating the Impact of Forced Sales on House Prices
36 pages | pdf document, 1.4 MB
ISBN 978-90-5833-682-8 | Download publication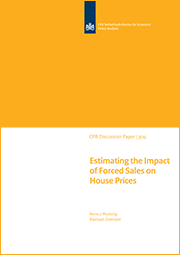 We aim to measure both the forced sale discount and the spillover effect. We employ an unusual rich dataset for house transactions in the Netherlands between 2007 and 2013. To identify the effects of forced sales we control for very local neighborhood trends and detailed house characteristics. We find that a forced sale results in a price discount of about five percent. Each nearby forced sale reduces the transaction price by about 0.4 percent.