Can your house keep you out of a nursing home?
Langer thuis als huis toegankelijk is gemaakt
Press release
Ouderen die in toegankelijke huizen wonen, hebben een kleinere kans om in een verpleeghuis terecht te komen. Dit effect loopt op met de leeftijd. Hoewel beleidsmakers het woonbeleid al geruime tijd inzetten als middel om ouderen langer thuis te laten wonen, is dit het eerste grootschalige empirische onderzoek dat de relatie tussen de toegankelijkheid van het huis en instroom in het verpleeghuis in kaart brengt.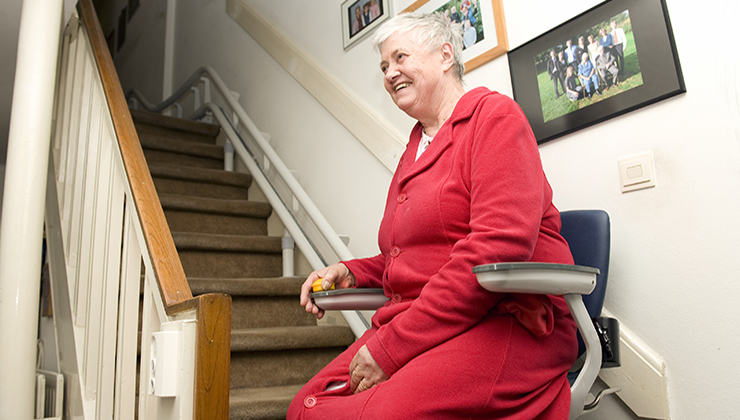 90-Plussers met een gelijkvloerse woning, of een woning waarin ruimte is voor een traplift, hebben een kans van ongeveer 9 procent om het komende jaar in het verpleeghuis te belanden. Vergelijkbare ouderen met een woning die niet zonder trap te betreden is, hebben daarentegen een kans van ongeveer 11 procent. Dit staat in de zojuist verschenen publicatie 'Can your house keep you out of a nursing home?' van het Centraal Planbureau (CPB).
Ouderen willen graag zo lang mogelijk thuis blijven wonen. Het aanbod van 'de juiste zorg op de juiste plek' is daarom een belangrijk uitgangspunt van het zorgbeleid. Die plek is vaak thuis. Om langer thuis wonen mogelijk te maken richt de overheid zich onder andere op verbetering van de kwaliteit en toegankelijkheid van de woning.
Het CPB heeft, op basis van data over de toegankelijkheid van vrijwel alle woningen van ouderen in Nederland, onderzoek gedaan naar instroom in het verpleeghuis. Aanvullende analyses laten zien dat de toegankelijkheid van de woning vooral een rol speelt voor mensen met lichamelijke beperkingen en in mindere mate voor mensen met cognitieve beperkingen. In het onderzoek wordt rekening gehouden met allerlei verschillende factoren, zoals de zorg waarvan gebruik wordt gemaakt, de faciliteiten in de buurt en persoonlijke kenmerken.
We find that older people living in more accessible houses are less likely to use nursing home care. The effects increase with age and are largest for individuals aged 90 or older. The effects are stronger for people with physical limitations than for persons with cognitive problems. We also provide suggestive evidence that older people living in more accessible houses substitute nursing home care by home care.