Organisation
Since 1 September 2011 CPB Netherlands Bureau for Economic Policy Analysis is divided into five sectors responsible for research and analysis, supported by four staff directorates. All sectors and directorates report to the management.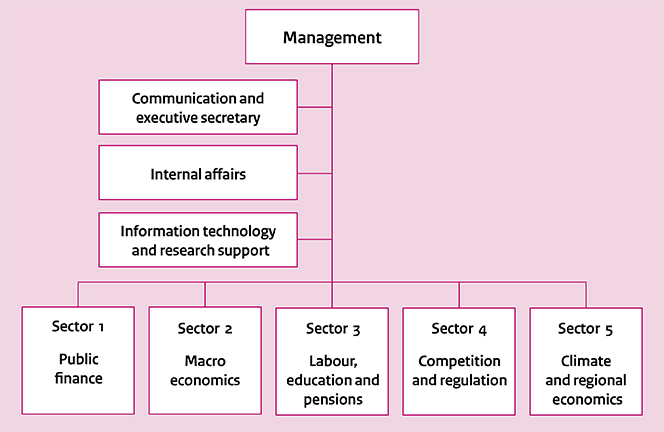 Management
Management of CPB Netherland Bureau of Policy Analysis consists of a director Laura van Geest, deputy director Jeroen Hinloopen and there is a vacancy for deputy director.
Communication and executive Secretary
Communication and executive Secretary supports the management in the broadest sense, is responsible for external and internal communication.
Internal affairs
The Internal affairs directorate takes care of financial administration, human resources, facility management, mail services, archiving, provides all staff members secretarial support and is responsible for the the library. The library's task is to accumulate, manage and make accessible literature, bibliographical and documentary information with regard to economics. The library primarily aims to fulfill the information needs of the CPB employees. External customers are welcome after making an appointment with the library, on work days from 8:30 to 15:30. Only CPB publications can be lent out to persons who are not employed by CPB. The lending period is one month.
Information technology and research support
Information Technology and Research Support controls all computer hard- and software applications and offers support in quantitative research methods and econometric modelling.
Sector 1 Public finance
The Public Finance sector is the 'fiscal watchdog' of the Dutch government. With other sectors it prepares macroeconomic forecasts for the national budget cycle, while it also provides economic policy analyses. Its research focuses on optimal policies for the budget, taxing, and social security.
Sector 2 Macro economics
Macro economics is the macro-economic knowledge center for the Dutch government. It carries out short and medium-term analyses and forecasts for the Dutch economy, and analyses general macroeconomic issues at the national, European and international levels. Its research focus is also on pensions.
Sector 3 Labour, education and pensions
The Labour, education and pensions sector conducts applied economic research on all aspects of the life cycle, in the belief that a well-educated and healthy population is the main foundation for future welfare. Its research focus is on education, labour markets and health in the life-cycle.
Sector 4 Competition and regulation
The Competition and regulation sector specialises in economic analyses of Dutch and European competition and regulatory issues. Its programmes contain topics such as healthcare, financial markets, telecommunications, information and communications technology and innovation.
Sector 5 Climate and regional economics
The Climate and regional economics sector develops and applies consistent and policy relevant economic analyses in the fields of mobility, infrastructure, spatial economics, water safety and climate. The sector also produces conduct societal cost-benefits analysis of large infrastructural plans.