CPBs short-term forecasts December 2013
Slight growth 2014 will not yet lead to additional consumption
Press release
A slow climb out of recession is projected for the Dutch economy, with a ½% growth next year. Recovery of the labour market will take a little longer, with unemployment projected to increase to 7½% in 2014. Inflation, with 1½%, will remain below the target level of the European Central Bank, while median purchasing power increases by 1%.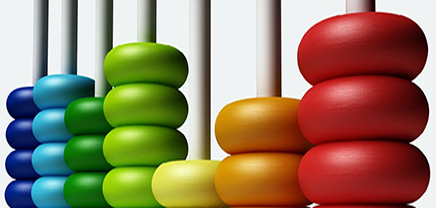 Go straight to the data.
This according to the December projections published today by the CPB Netherlands Bureau for Economic Policy Analysis. Compared to the last projections published in September changes are only small.
The slight growth in GDP (gross domestic product) of 0.1% in the third quarter of 2013 is expected to continue next year. Annual growth is projected to be ½% for 2014. This is particularly due to increases in exports and investments. Consumer spending next year will continue to decline further, mainly as an after-effect of the income reduction of 2013 and the decline in wealth of the past years. The average increase in contract wages in 2014 is expected to equal inflation. Purchasing power is projected to increase next year, due to a lowering of the tax rate of the first tax bracket, a drop in health insurance premiums and lower pension fund contributions for civil servants.
Labour market recovery is not on the cards yet. Unemployment in 2014 will continue to rise and, on average, will involve 7½% of the working population. There will be no turn around yet, as employment is projected to decline also in 2014, albeit at a slower pace than in 2013. The decline for next year is estimated at ½% in the market sector and 1½% in the public sector. At the same time, there will be an increase in the number of people who would like to enter the labour market, although this increase will be smaller than in 2013.
Inflation in 2014 will even out at 1½%. The main factors contributing to a rise in consumer prices are the relatively large rent increases and price increases of imported consumer goods and services. As in the rest of the eurozone, inflation in the Netherlands also will be lower than in 2013, partly because the October 2012 increase in VAT will no longer affect inflation.
The EMU balance will even out at 3.1% in 2013 and 3.3% in 2014. The deficit will be attenuated by sizeable spending cuts and burden increases that were decided on in the government agreements of both Rutte Cabinets, the Government Agreement 2013 (Spring Agreement), and the six-billion-euro package of measures of last autumn. The increase in the expenditure on health care is lower than projected earlier. This has enabled a reduction in health care premiums, but has little influence on the EMU balance.
Main conclusions
Read the accompanying press release.
Table 'Extended main economic indicators', 2011-2014 (17 dec 2013)
International items
2011
2012
2013
2014
Relevant world trade
(vol. %)

4.0

0.7

1 1/2

3 3/4

Import price goods (%)

5.1

2.7

-1 1/2

-3/4

Export price competitors
(%)

6.3

4.1

-1 1/2

-1/2

Crude oil price (Brent, $)

111.3

111.7

109

109

Exchange rate
(dollar p euro)

1.39

1.28

1.33

1.36

Long-term interest rate
(level in %)

3.0

1.9

2.0

2.4
Demand and foreign trade (volume)
2011
2012
2013
2014
Gross domestic product
(GDP, economic growth)
(%)

0.9

-1.2

-1

1/2

Value gross domestic
product (GDP) (bln euro)

599.0

599.3

603

611

Private consumption (%)

-1.1

-1.6

-2

-3/4

Public demand (%)

-0.6

-0.8

-1 1/4

1/2

Gross fixed investment,
private non-residential
(%)

12.3

-2.9

-6 1/4

4

Exports of goods
(non-energy) (%)

4.4

1.9

1/2

4

of which domestically
produced (%)

3.8

0.7

-3/4

2 3/4

re-exports (%)

4.9

3.0

1 3/4

5 1/4

Imports of goods (%)

4.7

3.6

-3/4

3 1/2
Prices, wages and purchasing power
2011
2012
2013
2014
Export price goods
(excluding energy) (%)

2.1

0.8

0

-1/2

Price competitiveness (%)

-0.2

2.4

-3 1/4

-1/4

Consumer prices (CPI) (%)

2.3

2.5

2 1/2

1 1/2

Consumer prices
(harmonised, HICP) (%)

2.5

2.8

2 1/2

1 1/4

Price of gross
domestic product (%)

1.1

1.3

1 3/4

3/4

Price of national
expenditure (%)

0.7

1.8

1 1/2

1

Contractual wages
market sector (%)

1.4

1.6

1 1/2

1 1/2

Compensation per full-time
employee market sector (%)

1.9

1.7

1 1/2

3

Gross wage Jones family
(in euro's)

33500

33000

32500

33500

Purchasing power
(median, all households) (%)

-1.0

-2.4

-1

1
Labour market (international definition 'labour force', unless stated differently)
2011
2012
2013
2014
Population (x 1000 pers.)

16693

16754

16795

16840

Labour force (15-74)
(x 1000 pers.)

8746

8878

8950

8980

Employed labour force
(15-74) (x 1000 pers.)

8357

8409

8345

8320

Unemployment
(x 1000 pers.)

389

469

605

665

Employed Persons
(15-74) (%)

0.7

-0.2

-1

-1/2

Labour force
(15-74) (%)

0.0

1.5

3/4

1/4

Employed labour
force (15-74) (%)

0.0

0.6

-3/4

-1/4

Unemployment rate
(% labour force)

4.4

5.3

6 3/4

7 1/2

Idem, national definition
(% labour force)

5.4

6.4

8 1/2

9
Market sector
2011
2012
2013
2014
Production (%)

1.4

-1.9

-1 3/4

3/4

Labour productivity (%)

0.9

-1.7

-3/4

1 1/4

Employment
(labour years) (%)

0.5

-0.2

-1

-1/2

Price gross value added (%)

0.3

1.7

1 1/4

3/4

Real labour costs (%)

1.6

0.0

1/4

2 1/4

Labour share in
enterprise income
(level in %)

79.0

80.5

81

82
General government
2011
2012
2013
2014
General government financial
balance (% GDP)

-4.3

-4.1

-3.1

-3.3

Gross debt general
government (% GDP)

65.7

71.3

74.6

75.6

Taxes and social security
contributions (% GDP)

38.6

39.0

39.6

40.6
Economic growth in the Netherlands, 2008-2014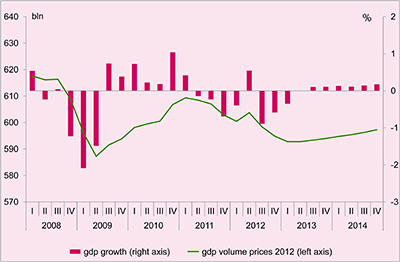 Related publication