Macro Economic Outlook (MEV) 2013
Forecasted Dutch budget deficit 2013 remains at 2.7 percent
Press release
CPB Netherlands Bureau for Economic Policy Analysis (CPB) expects the Dutch economy to grow modestly by ¾ percent of Gross Domestic Product (GDP) in 2013, after a decline of ½ percent in 2012. The 2013 budget deficit (EMU balance) improves from 3.7 percent in 2012 to 2.7 percent in 2013, or 17 billion Euros.
This was announced today by CPB in its publication Macro Economic Outlook 2013 (MEV 2013). These figures are similar to the draft figures published on 22 August.
In 2012 the size of the Dutch economy contracts by ½ percent GDP, while a slight recovery is expected of ¾ percent in 2013. Domestic consumption slows the growth: both household and government consumption decreases in both years. Investments will go up slightly in 2013, after a decline in 2012. Exportation of goods will perform relatively well, among others due to a small recovery of world trade in 2013. The labour market forecasts remain gloom. As a result of low production levels, employment rates decrease both in the current and the next year. In 2013, average unemployment is expected to be 5¾ percent, which is a level not seen since the nineteen-nineties. Median purchasing power declines by 1¾ percent in 2012 and by ¾ percent in 2013. Purchasing power has also declined in the previous two years. Taken together, this amounts to a 4 percent decline of median purchasing power in four years.
The forecasted budget deficit (EMU balance) improves from 3.7 percent in 2012 to 2.7 percent GDP in 2013. The structural deficit (the deficit adjusted for the business cycle) is lower, at 1.2 percent in 2013. The improved budget deficit is mainly the result of restrictive budget policies and partly due to the modest economic recovery in 2013. In 2013 the budget deficit will be below the Maastricht Treaty ceiling for the first time since 2008. The deficit reduction is mainly achieved through raising public finance burdens. Despite the deficit reduction government debt will grow to 71.8 percent GDP in 2013.
The European debt crisis remains the most significant downward risk. However, recent decision-making by the European Central Bank, the ruling of the German Constitutional Court and perhaps also the plans for establishing a European Banking Union, give a first glance of a structural solution for the crisis.
CPBs short-term forecasts September 2012
Four times a year CPB publishes short-term forecasts. This is the third forecast of 2012, CPB's Macro Economic Outlook (MEV) 2013. CPB presents its analyses and forecasts of both the Dutch and worldwide economy in the years 2012 and 2013. MEV 2013 is only available in Dutch but you can download an English translation of chapter 1.
Main conclusions
Read the accompanying press release (MEV 2013).
Table 'Extended main economic indicators', 2010-2013
International items
2010
2011
2012
2013
Relevant world trade (vol. %)

11.3

4.0

1/4

3 1/2

Import price goods (%)

7.3

4.9

2

-1/4

Export price competitors (%)

7.9

6.3

3 1/2

1 1/2

Crude oil price (Brent, $)

79.5

111.3

104

95

Exchange rate (dollar p euro)

1.33

1.39

1.27

1.25

Long-term interest rate
(level in %)

3.0

2.9

2.0

2.4
Demand and foreign trade (volume)
2010
2011
2012
2013
Gross domestic product
(GDP, economic growth) (%)

1.6

1.0

-1/2

3/4

Value gross domestic
product (GDP) (bln euro)

588.7

602.0

607

622

Private consumption (%)

0.3

-1.0

-1

0

Public demand (%)

0.3

-0.6

-3/4

-3/4

Gross fixed investment,
private non-residential (%)

-5.2

10.2

-2 3/4

3 1/4

Exports of goods
(non-energy) (%)

13.5

4.3

4 1/4

4 1/4

of which domestically
produced (%)

9.7

3.8

-1/4

3 1/4

re-exports (%)

17.0

4.7

8 1/4

4 3/4

Imports of goods (%)

12.2

4.1

3 1/2

2 3/4
Prices, wages and purchasing power
2010
2011
2012
2013
Export price goods
(excluding energy) (%)

4.3

1.4

1

1

Price competitiveness (%)

2.2

0.8

3

1

Consumer prices (CPI) (%)

1.3

2.3

2 1/4

2

Consumer prices
(harmonised, HICP) (%)

0.9

2.5

2 1/2

1 3/4

Price of gross
domestic product (%)

1.1

1.2

1 1/4

1 3/4

Price of national
expenditure (%)

1.2

0.8

1 3/4

2

Contractual wages
market sector (%)

1.0

1.4

1 3/4

2 1/4

Compensation per full-time
employee market sector (%)

1.7

2.1

3 1/4

2 3/4

Gross wage Jones family
(in euro's)

32500

33000

33000

33500

Purchasing power (Jones,
one-income household) (%)

-1.2

-1.2

-2 1/4

-1/2

Purchasing power
(median, all households) (%)

-0.5

-0.9

-1 3/4

-3/4
Labour market (international definition 'labour force', unless stated differently)
2010
2011
2012
2013
Population (x 1000 pers.)

16615

16693

16755

16820

Labour force (15-74)
(x 1000 pers.)

8748

8744

8860

8890

Employed labour force
(15-74) (x 1000 pers.)

8357

8357

8390

8365

Unemployment
(x 1000 pers.)

391

387

470

520

Employed Persons
(15-74) (%)

-0.4

0.7

0

-1/4

Labour force
(15-74) (%)

-0.3

0.0

1 1/4

1/4

Employed labour
force (15-74) (%)

-1.1

0.0

1/2

-1/4

Unemployment rate
(% labour force)

4.5

4.4

5 1/4

5 3/4

Idem, national definition
(% labour force)

5.5

5.3

6 1/4

7
Market sector
2010
2011
2012
2013
Production (%)

1.1

1.4

-1 1/4

1

Labour productivity (%)

2.9

1.0

-1 1/4

2

Employment
(labour years) (%)

-1.8

0.4

0

-1

Price gross value added (%)

2.0

0.3

1/2

3/4

Real labour costs (%)

-0.3

1.8

2 3/4

1 3/4

Labour share in
enterprise income
(level in %)

78.7

78.7

81 3/4

81 1/4
General government
2010
2011
2012
2013
General government financial
balance (% GDP)

-5.1

-4.5

-3.7

-2.7

Gross debt general
government (% GDP)

63.1

65.5

71.4

71.8

Taxes and social security
contributions (% GDP)

38.8

38.4

39.0

40.0
Economic growth in the Netherlands, 2008-2013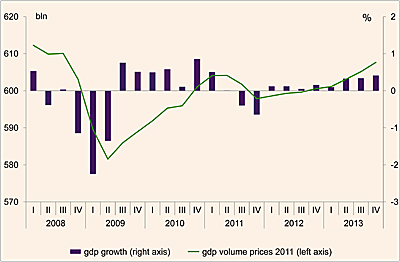 Related publication