Forecast September 2018 (MEV 2019)
Economy flourishes, but international uncertainties are increasing
Press release
The Dutch economy continues to flourish, with growth figures of 2.8% this year and 2.6% in 2019. Unemployment will drop to 3.5%, and most households will experience an increase in purchasing power. The expansive budget and relatively flexible monetary policy both play a role, here. There are nevertheless increasing uncertainties that may have a negative economic impact. This includes emerging trade wars, uncertain Italian budget policy, and a possible hard Brexit. Because of the strong economy, public finances are in the green. However, the cyclically adjusted budget balance will decrease in 2019 to a deficit of 0.4% of GDP.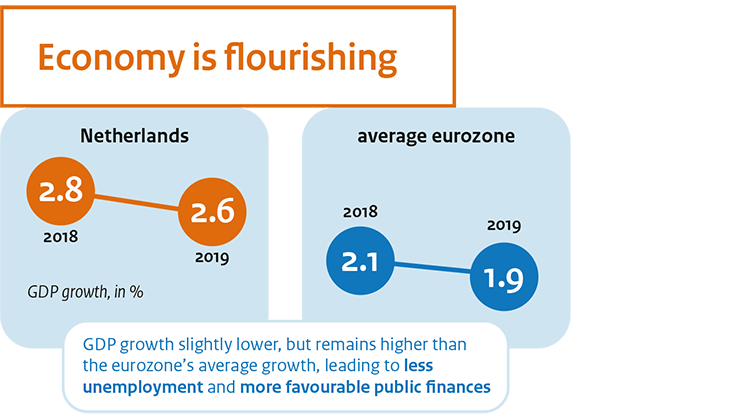 This is the conclusion of CPB Netherlands Bureau for Economic Policy Analysis in its Macro Economic Outlook (MEV) published today. The latest economic projections, which include the most recent Cabinet decisions, hardly deviate from CPB's preliminary August projections (cMEV).

| | | | |
| --- | --- | --- | --- |
| | 2017 | 2018 | 2019 |
| GDP growth continues | 2.9 | 2.8 | 2.6 |
| Unemployment to lowest level since 2001 | 4.9 | 3.9 | 3.5 |
| Raising low VAT tariff pushes up inflation | 1.3 | 1.6 | 2.5 |
| Purchasing power is increasing | 0.3 | 0.4 | 1.5 |
| Budget surplus | 1.2 | 0.9 | 1.0 |
| Government debt decreases further | 57 | 53 | 49 |
In its MEV analysis, CPB describes how the Netherlands could remain an attractive business location without increasing its conduit function. In addition, the MEV also focuses on the chances of reaching state pension age, self-employment tax deductions, lagging income growth, climate policy, competition policy in the Coalition Agreement, and the suggestion of a tax on robots.
FAQs:
What causes purchasing power to increase so much more rapidly in 2019 than in 2018?
This is due to wages increasing more rapidly in 2019, and to income tax reform that will be implemented in 2019. Households with children will also profit from higher child benefit payments.

Why does CPB assume wages will increase more rapidly?
Wage increases will be higher next year, because of a further tightening labour market. In addition, the higher inflation of 2019 will also lead to higher wage claims.

What causes economic growth to be lower in 2019?
Economic growth will be slightly lower in 2019, due to a less buoyant housing market and a net reduction in exports.

Will the spending increases announced in the Coalition Agreement be implemented?
The government, as yet, appears unable to realise some of the spending increases that were agreed in the Coalition Agreement. In 2018, this is particularly the case for infrastructure and defence.

Will VAT increases be incorporated into prices and, thus, passed on to consumers?
Yes. VAT increases will be passed on to consumers, as will the higher energy tax and the Sustainable Energy Storage tax (ODE). The direct impact of the VAT increases on inflation will be +0.6 percentage points; higher energy costs will increase inflation by a further 0.3 percentage points, and the total impact of the increase in financial burden on inflation will be +1 percentage point.

Why has CPB, in its calculations, used a higher health care premium than that used by Cabinet?
This difference is mainly related to the reserves applied by health insurance companies. In the Cabinet's projections, health care premiums are decreased because insurance companies are assumed to use some of their reserves, whereas CPB's projections assume health insurance companies to slightly increase their reserves.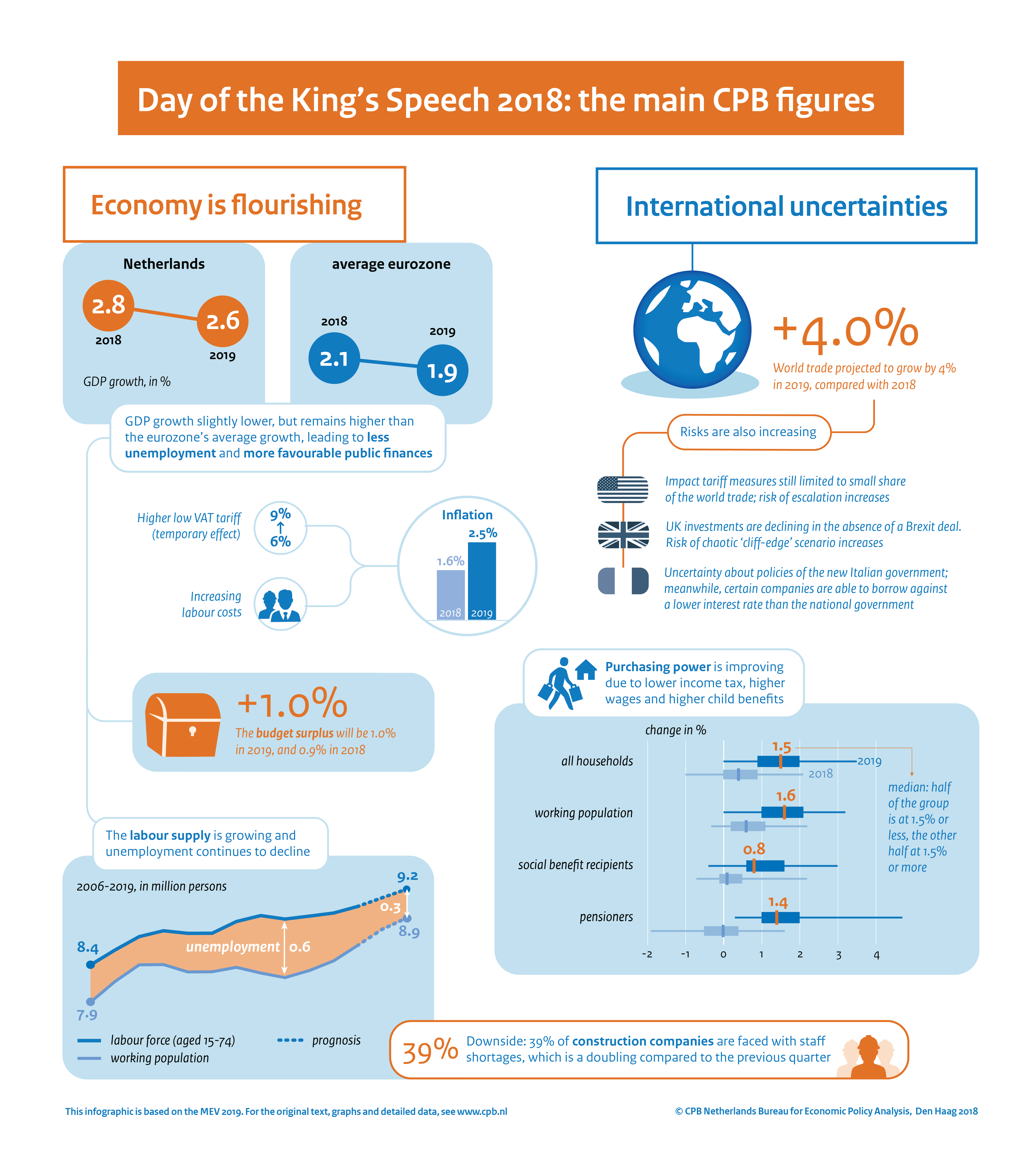 In this publication CPB presents its analyses and projections of both the Dutch and worldwide economy in 2018 and 2019. The Outlook is only published in Dutch, the download is a translation of chapter 1 of the Dutch publication.