Towards an EMU banking union: three scenarios
Nederland niet immuun voor Italiaanse problemen, maar beperkte directe blootstelling
Press release
De belangrijkste risico's voor de financiële stabiliteit komen momenteel niet uit het binnenland maar uit het buitenland. De internationale risico's zijn een aanhoudend lage, of juist te sterk stijgende rente, een chaotische Brexit zonder overeenstemming over wet- en regelgeving, een escalatie van de handelsoorlog met de VS, de recente deregulering van grote banken in dat land en de ontwikkelingen in Italië. Hoewel Nederlandse financiële instellingen weinig schuldpapieren van Italiaanse banken of de Italiaanse overheid bezitten, kan een door Italië in gang gezette Europese recessie, ook ons land treffen.
Dit concluderen onderzoekers van het Centraal Planbureau in de vandaag verschenen Risicorapportage Financiële Markten. De rapportage bestaat uit drie delen en bevat naast de belangrijkste risico's voor de financiële stabiliteit, informatie over cryptovaluta en de bankenunie. Op dit moment vormen cryptovaluta geen risico voor de financiële stabiliteit in Nederland. Het voltooien van de bankenunie van de EMU versterkt de economische stabiliteit in de toekomst.
In Italië komen veel potentiele problemen samen. Banken hebben nog veel probleemleningen, de overheidsschuld is met 132% hoog en de onderlinge verwevenheid is groot. Banken en overheid kunnen bij een te snelle stijging van de rente in de financiële problemen komen.
Nederland heeft een goede uitgangspositie om de buitenlandse risico's het hoofd te bieden: zowel de financiële positie van banken – kapitaal en rendement - als de overheidsfinanciën zijn op orde. Wel vragen de sterk stijgende prijzen op de huizenmarkt en digitale kwetsbaarheden bij financiële instellingen aandacht.
Cryptovaluta nog geen risico
Cryptovaluta vormen op dit moment geen risico voor de financiële stabiliteit. Het handelsvolume is daarvoor te beperkt en de betrokkenheid van financiële instellingen te gering. Wel brengen crypto's risico's met zich mee voor particuliere beleggers. Ook blijken cryptovaluta een relatief grote rol te spelen bij misdaadfinanciering.

Ideaal scenario richting bankenunie bestaat niet

Het voltooien van de bankenunie vergroot de financiële stabiliteit in de EMU. Het knelpunt daarbij zijn de zwakke banken in landen met hoge overheidsschulden. Nederlandse banken lijken weinig gevoelig voor mogelijke problemen in zuidelijke landen. Het belangrijkste discussiepunt tussen EMU-landen richting een bankenunie blijft het tempo waarin risico's verminderd en gedeeld moeten worden. Een ideaal scenario bestaat niet; maar zonder verdere stappen blijft de EMU langer kwetsbaar voor schokken.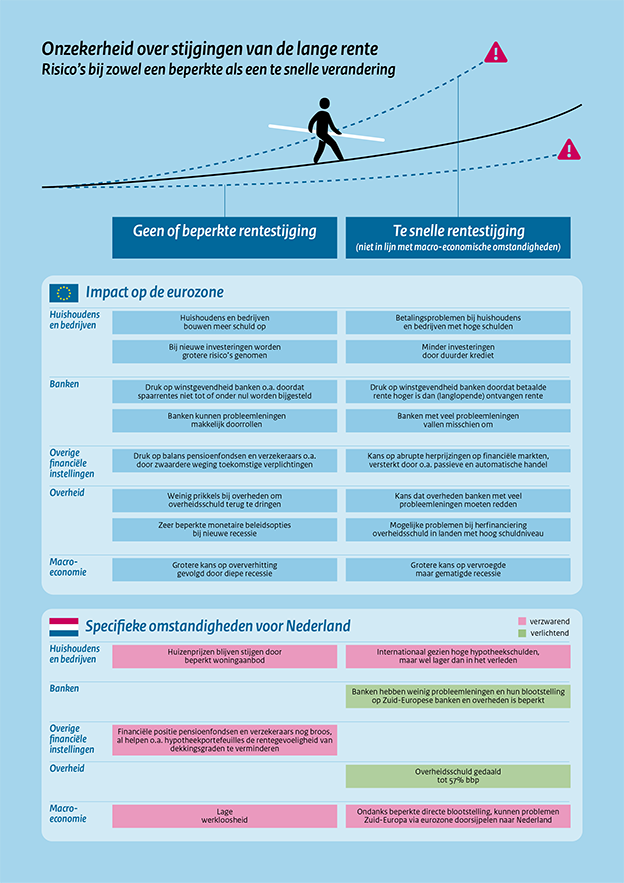 There is currently much discussion about the future of the Economic and Monetary Union of the European Union (EMU). This month (June 2018), the European Council plans to discuss future reforms regarding the banking union. The European Commission has drafted a roadmap containing proposals for a more comprehensive EMU, including rapid completion of the banking union. A group of eight, mostly Nordic, countries is in favour of the banking union ultimately being completed, but believes that the first priority should be risk reduction.
This publication discusses the need for an EMU banking union and describes three possible transition scenarios. The European Commission's roadmap also contains proposals for other types of EMU reform (e.g. a budgetary union, capital market union or the introduction of a European Monetary Fund), but this publication only addresses the banking union. In addition to this report, the CPB will also publish a background document, titled 'Capital position of banks in the EMU: an analysis of Banking Union scenarios', in which calculations are presented that show the consequences of various elements of the banking union, for the largest banks within the EMU.