Shop till you drop those tax rates: Treaty shopping as a determinant for FDI stocks
CPB Background Document, 30 October 2014
This CPB Background Document supplements the CPB Discussion Paper 290 'Ranking the Stars - network analysis of bilateral tax treaties' (van 't Riet & Lejour, 2014). It analyses in more detail than the accompanying discussion paper to what extent FDI positions can be explained by treaty shopping behaviour.
Shop till you drop those tax rates: Treaty shopping as a determinant for FDI stocks
18 pages | pdf document, 2.1 MB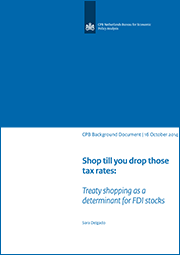 Read also CPB Discussion Paper 290 and the accompanying press release.
The issue is investigated by performing cross-sectional regressions, whereby standard models for inward and outward FDI are augmented with a betweenness centrality indicator, which reflects how attractive a country is as conduit for dividend flows. The document is structured as follows. Chapter 2 discusses and motivates the research methodology, while chapter 3 describes the data used in the analysis. In chapter 4, the baseline regression results are presented followed by a number of robustness checks. Finally, in chapter 5 we come to conclusions.