This publication is in Dutch, there is no English translation!
Neveneffecten sturingsinstrumenten
Op 11 september 2013 presenteerde de Commissie Behoorlijk Bestuur haar bevindingen waarin zij het bestaan van een aantal weeffouten constateerde in de politiek-bestuurlijke ordening van de semipublieke sector. Eén van de aanbevelingen van de Commissie is om sturingsinstrumenten tegen het licht te houden voor onbedoelde gedragseffecten.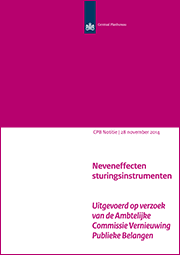 Deze CPB Notitie, opgesteld in opdracht van de Ambtelijke Commissie Vernieuwing Publieke Belangen, gaat over inzichten uit de wetenschappelijke literatuur over averechtse effecten van verschillende meet- en sturingsinstrumenten.
De theoretische literatuur beschrijft een aantal eigenschappen die de inzet van sturingsinstrumenten mogelijk minder effectief maken: moeilijk meetbare output; onzekerheid bij productie; meerdere taken; conflicterende sturingsinstrumenten; wanneer het werk in teamverband wordt uitgevoerd. Andere oorzaken van averechtse effecten bij de inzet van sturingsinstrumenten zijn strategisch gedrag en verdringing van intrinsieke motivatie.
De empirische literatuur over effectiviteit van meet- en sturingsinstrumenten is omvangrijk. Consensus over de effectiviteit ervan ontbreekt. De discussie in de literatuur gaat dan ook eerder over de specifieke voorwaarden waaronder, en de context waarin, dergelijke instrumenten effectief kunnen zijn. De literatuur focust vooral op de vraag of een specifiek instrument effectief is, waarbij slechts zijdelings wordt verwezen naar neveneffecten. Toch is bij verschillende veldexperimenten strategisch gedrag gesignaleerd of zijn er aanwijzingen voor specifieke problemen bij de toepassing van het instrument. De aanwezigheid van neveneffecten betekent overigens niet automatisch dat een sturingsinstrument niet effectief is.