This document is in Dutch, there is no English translation.
March 5, 2015
Onzekerheid rondom CPB-ramingen, in kaart gebracht met fan charts
In dit CPB Achtergronddocument geven wij een toelichting op de fan charts waarmee het CPB vanaf het CEP 2015 de onzekerheid rondom CEP- en MEV-ramingen in kaart brengt.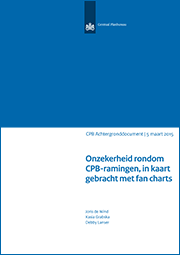 Ramingen zijn per definitie onzeker en de CPB-ramingen hebben in het verleden regelmatig de economie onder- of overschat. Hiermee is het CPB in goed gezelschap van andere instituten waaronder het Internationaal Monetair Fonds, Europese Centrale Bank en Bank of England. Een groot verschil met voornoemde instituten is de wijze waarop het CPB tot nu toe heeft gecommuniceerd over de ramingsonzekerheid. In CEP en MEV wordt met grote regelmaat benadrukt dat de uitkomsten onzeker zijn en dit is ook de boodschap van de scenario's die worden gepresenteerd. Veel toonaangevende instituten gaan echter een stap verder en presenteren naast hun onzekerheid scenario's ook zogenaamde fan charts, een kwantitatieve duiding van de ramingsonzekerheid. Vanaf heden maakt het CPB daar ook gebruik van en dit achtergronddocument vormt daarop een toelichting.
De rest van dit CPB Achtergronddocument bestaat uit de volgende onderdelen. Eerst presenteren wij een fan chart rondom de CEP2015-puntvoorspelling (i.e. het centrale pad) voor het Nederlandse bbp en leggen wij uit hoe zo'n fan chart gelezen dient te worden. Daarna geven wij een beknopt overzicht hoe andere instituten ramingsonzekerheid in kaart brengen, bespreken wij de bronnen waar ramingsonzekerheid vandaan komt en lichten wij de gebruikte methodologie toe. Vervolgens tonen wij voor enkele kernvariabelen de onzekerheid rondom de meest recente CEP- en MEV-ramingen en lichten wij toe dat de ramingsonzekerheid groter is bij het CEP dan bij de MEV. Tot slot staan wij nog stil bij een uitdagend nieuw project waarin wij proberen te meten in welke mate ramingsonzekerheid afhangt van de stand van de economie.

Ga naar de raming van het CEP 2015.