This document is in Dutch, there is no English translation.
October 28, 2015
Btw en de reistijdwaardering van zakelijke reizen en goederenvervoer in maatschappelijke kosten-batenanalyse
Deze CPB Notitie gaat in op de manier waarop de kengetallen voor reistijdwaardering moeten worden gecorrigeerd voor btw. De notitie is daarmee een aanvulling op Zwaneveld et al. (2011), waarin wordt betoogd dat in een transport-MBKA alle kosten en effecten het beste gewaardeerd kunnen worden in marktprijzen inclusief btw.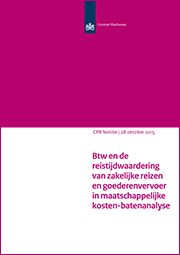 De aanpak van Zwaneveld et al. (2011) is sinds medio 2011 de standaard bij MKBA's.
Ten eerste is het de vraag of de loonkostencomponent van de reistijdwaardering een btw-opslag moet hebben en zo ja welke. Daarnaast is de vraag wat de btw-opslag van de voertuiggebruikskosten moet zijn. In deze CPB Notitie concluderen we daarover het volgende:
Bij de bepaling van de reistijdwaardering voor goederenvervoer en zakelijke reizen, heeft de looncomponent van de chauffeur of de zakelijke reiziger een opslag nodig voor de btw. Het te gebruiken opslagpercentage is het gemiddelde tarief van indirecte belasting, dat momenteel 18,2% is.
Voor de vraag wat de btw-opslag voor de voertuiggebruikskosten moet zijn, concluderen we dat toepassing van het gemiddelde tarief van indirecte belastingen van 18,2% op voertuiggebruikskosten theoretisch correct is, maar dat het gebruik van marktprijzen inclusief btw (21%) daarvoor vaak een goede benadering is en bovendien herkenbaarder en praktischer is. Alleen als er sprake is van een sterk afwijkend gecumuleerd tarief van indirecte belastingen, is het verstandiger om het gemiddelde tarief te gebruiken. Dat principe is al uitgelegd in Zwaneveld et al. (2011).
In deze notitie leggen we uit hoe we tot deze conclusies komen.