Jeroen Hinloopen
onderdirecteur, Directie
Centraal Planbureau
Bezuidenhoutseweg 30
2594 AV Den Haag
Jeroen Hinloopen (1968) is Deputy Direct of CPB Netherlands Bureau for Economic Policy Analysis and Professor of Industrial Organization at the University of Amsterdam. He is also Research Fellow of the Tinbergen Institute, fellow of the Amsterdam Centre for Law and Economics, and Program Director of the Economic Policy track of the MSc Economics at the Amsterdam School of Economics. Previously, he was affiliated with the University of Copenhagen, Delft University of Technology, Katholieke Universiteit Leuven and Universiteit Utrecht. In addition he has held policy positions at the Dutch Central Bank and the Dutch Ministry of Economic Affairs.
Jeroen Hinloopen is a member of the Editorial Board of the Review of Industrial Organization and has served as guest editor for the International Journal of Industrial Organization. He has written extensively on various topics in industrial organization, including price regulation, product differentiation, spatial competition, collusion, leniency programs, dominance, comparative advantage, research and development, and robust estimation techniques. His work has been published by Cambridge University Press and in leading economics journals including the RAND Journal of Economics, the European Economic Review, the Journal of Industrial Economics, the Journal of Economic Dynamics and Control, and the International Journal of Industrial Organization. He is also the principle author of 'Praktische Economie', an economics text book for secondary education in The Netherlands.
Jeroen Hinloopen has ample teaching experience, with a focus on microeconomics, industrial organization, and competition policy, at all academic levels, including specialized training for professionals and in international executive MBA-programs.
Jeroen Hinloopen has served as Program Director of the BSc Economics, Director of the College of Economics & Business, Director of the Graduate School of Economics, and Director of the research program 'Industrial Organization, Regulation, and Competition Policies'. Both at the University of Amsterdam and at Utrecht University he has been Director of Education and Member of the Board.
Jeroen Hinloopen received his MSc in Econometrics from Erasmus University Rotterdam and his PhD in Economics from the European University Institute.
---
Publications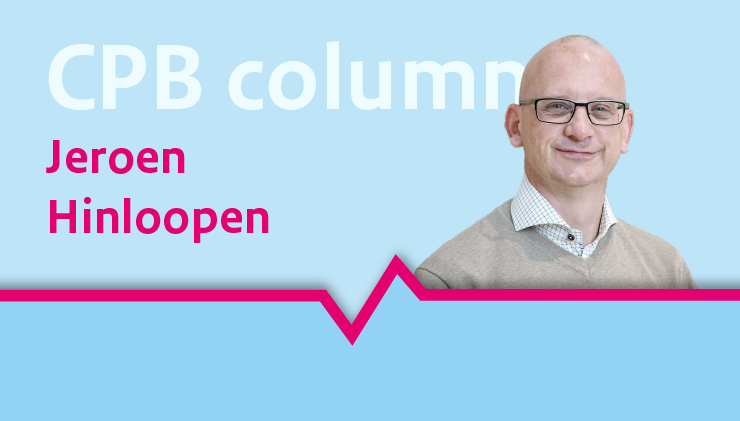 March 16, 2021
Sterrenslag
Honderdtweeëndertig. Zoveel brieven vielen op de mat als reactie op onze online aankondiging dat het CPB ruimte heeft voor nieuwe collega's. Met vereende krachten toog de sollicitatiecommissie aan het werk. Alles moest online, een kans en een uitdaging. Krijgen we wel een goede indruk van iemand via het scherm? Pikken we alle signalen op die in een gesprek aan tafel toch ook afgegeven worden? →