This publication is in Dutch, there is no English translation!
Beschrijvende statistiek DGA's
Het algemene beeld is dat DGA's en hun bedrijven gevoelig zijn voor fiscale prikkels. Wij vinden fiscaal gemotiveerde pieken in de verdeling van het gebruikelijk loon en de box 1-grondslag. Daarnaast hebben DGA's sterk gereageerd op de tijdelijke verlaging in 2007 van het tarief in box 2.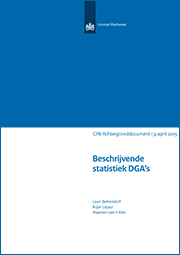 DGA's schijnen inkomen vooral te schuiven over de tijd door vermogen op te bouwen binnen hun bedrijf. We kunnen dynamische belastingplanning echter niet verder onderzoeken, omdat de steekproef te kort is, bijvoorbeeld, of belastingen op termijn worden ontweken door vervreemding, schenking of emigratie.
De indeling van dit document is als volgt. In de volgende sectie beschrijven we eerst kort het belastingstelsel dat van toepassing is op het inkomen van de DGA en zijn bedrijf. In sectie 3 kijken wij hoeveel AB-houders een bedrijf bezitten en hoeveel bedrijven (mede) in eigendom zijn van een AB-houder. In de rest van het document beperken wij ons tot bedrijven die één eigenaar hebben, omdat in veruit de meeste gevallen dit de DGA zal zijn. Wij presenteren vervolgens kenmerken van DGA-bedrijven: sectie 4 en 5 bespreken respectievelijk de verdeling van het fiscaal vermogen en de belastbare winst. De laatste secties behandelen elementen van de IB-aangifte van AB-houders. Achtereenvolgens komen statistieken van het gebruikelijk loon en de grondslag van box 1, box 2 en box 3 aan bod. Wij besluiten met een korte samenvatting van de voornaamste bevindingen.