This document is in Dutch, there is no English translation.
September 22, 2015
De indexeringssystematiek van het Gemeentefonds in het licht van de decentralisaties en demografische ontwikkelingen
De ministeries van BZK en Financiën, en de VNG hebben het CPB gevraagd onderzoek te doen naar de indexering van het Gemeentefonds, mede naar aanleiding van de decentralisaties in het sociaal domein. Daarnaast is deze notitie input voor de aanstaande periodieke evaluatie van het Gemeentefonds door het Rijk.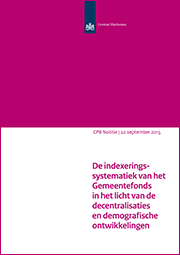 Deze CPB Notitie gaat in op verschillende aspecten van de indexering van het Gemeentefonds.
Allereerst wordt onderzocht of de indexering van het Gemeentefonds wel voldoende rekening houdt met de demografische component in de ontwikkeling van de omvangrijke gedecentraliseerde uitgaven in het sociaal domein.
Ook wordt de stabiliteit en voorspelbaarheid van de algemene uitkering onderzocht. Een stabiele (reële) ontwikkeling van de algemene uitkering kan bijdragen aan het opvangen van macro-economische schokken.
De belangrijkste conclusies zijn:
De indexering van het Gemeentefonds sluit op middellange termijn (tot 2023) wel aan bij de ontwikkeling van de gedecentraliseerde uitgaven, maar dit geldt minder voor de lange termijn (tot 2060).
Er zijn alternatieve indices die beter scoren op voorspelbaarheid en stabiliteit dan de huidige indexering van het Gemeentefonds, zoals een vast groeipercentage in combinatie met een raming van de cpi, of een indexering gebaseerd op de bruto collectieve uitgaven.
Lees ook het bijbehorende (Engelstalige) CPB Achtergronddocument "Indexeringssystematieken van algemene uitkeringen aan gemeenten in diverse OECD-landen" [link]