This publication is in Dutch, there is no English translation!
Risicoverevening in de Zorgverzekeringswet: nieuwe uitdagingen voor de toekomst
Het ministerie van Volksgezondheid, Welzijn en Sport heeft een aantal partijen verzocht om een 'position paper' te schrijven over de toekomst van de risicoverevening. Deze CPB Notitie bevat het position paper van het CPB.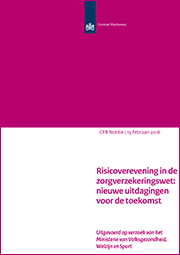 Het CPB identificeert daarin een aantal nieuwe uitdagingen voor de toekomst:
Probeer meer inzicht te krijgen in het precieze doel van de risicoverevening
Leg prioriteit bij nieuwe zorgvormen in de Zvw, zoals de GGZ en de wijkverpleging.
Evalueer de effectiviteit van beïnvloedbare risicofactoren in de huidige risicoverevening.
Onderzoek wat de gevolgen kunnen zijn van over- of ondercompensatie van (on)gezonde verzekerden?
Onderzoek of het mogelijk is om ook gedragsreacties van actoren mee te nemen bij de ontwikkeling van de risicoverevening.
Authors