October 10, 2017
Analysis economic and budgetary effects of the financial appendix to the Coalition Agreement
Regeerakkoord doorgerekend
Press release
Op verzoek van de informateur heeft het Centraal Planbureau het beleidspakket van de coalitiepartijen doorgerekend. De doorrekening heeft als uitgangspunt de maatregelen van de financiële bijlage van het Regeerakkoord die de informateur het CPB heeft aangeleverd. Deze maatregelen en de economische en budgettaire effecten hiervan zijn gedetailleerd weergegeven in de zojuist gepubliceerde CPB notitie en samengevat in onderstaande tabel.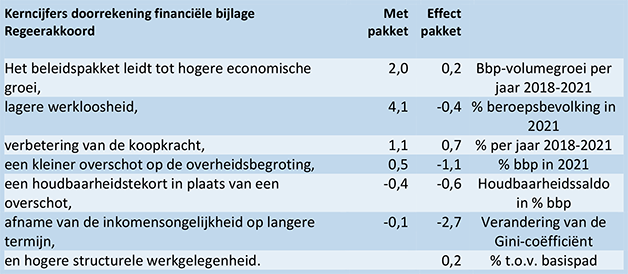 Noot voor de redactie (niet ter publicatie):
Voor journalisten is er woensdagochtend 11 oktober van 10 uur tot 11 uur een technische achtergrondbriefing over de CPB-doorrekening van het Regeerakkoord. Tijdens deze briefing wordt uitgelegd hoe de cijfers technisch tot stand komen en wat bijvoorbeeld structurele werkgelegenheid en houdbaarheid betekenen.
Deze briefing vindt plaats in het pand van het CPB (Bezuidenhoutseweg 30, Den Haag). Vooraf aanmelden is noodzakelijk. Dat kan bij Suzanne van Gils. Zij is bereikbaar op 06 – 21560776 en via s.van.gils@cpb.nl.
De te publiceren cijfers zijn te vinden op de website van het CPB (www.cpb.nl).
The baseline scenario represents the medium-term outlook as published in August 2017. This means that the decisions made by the outgoing Cabinet in August, which were included in calculations for the Budget Memorandum 2018, are included in this analysis in the form of measures. Any adjustments to those decisions are included as separate measures.
Some of the submitted measures are not yet very specific. This is indicated in the list in Chapter 10, where applicable with: not to be overrun. More detailed information on the implementation could affect the impacts presented here. For measures related to the tax burden, policy-induced developments are presented on the basis of the EMU balance. Developments that are not EMU-relevant are not shown.