November 8, 2017
Employment Polarization in local labor markets: the Dutch case
Lager aandeel banen middeninkomens meest zichtbaar in de Randstad
Press release
In de Randstad daalt het aandeel banen voor mensen met een middeninkomen en stijgt het aandeel banen voor mensen in de laagst en hoogst betaalde beroepen. Deze zogenoemde 'polarisatie' op de arbeidsmarkt speelt vooral in en rondom steden zoals Amsterdam, Rotterdam en Utrecht. Maar ook in sommige perifeer gelegen gebieden, zoals Groningen en Friesland speelt dit. Dit blijkt uit het zojuist gepubliceerde onderzoek van het Centraal Planbureau en de Rijksuniversiteit Groningen 'Employment Polarization in Local Labour Markets'.
Er was tot nu toe nog weinig bekend over de regionale verschillen bij het wegvallen van banen. Dat is de reden waarom het Centraal Planbureau en de Rijksuniversiteit Groningen nader onderzoek deden.

Ook is onderzocht wat de trend van toenemende polarisatie verklaart. Dat blijkt vooral het gevolg te zijn van technologische vooruitgang. Het aandeel banen dat vooral uit routinematige taken bestaat, is de laatste jaren afgenomen. De werkgelegenheid in beroepen waarin analytische of communicatieve vaardigheden een belangrijke rol spelen, is gegroeid. Het wegvallend aandeel banen in het midden is in Nederland overigens beperkt in vergelijking met andere landen, zoals bleek uit eerder onderzoek in 2015 van het CPB: 'Baanpolarisatie in Nederland'.

Figuur 1 Overzicht van polarisatie van arbeidsmarktregio's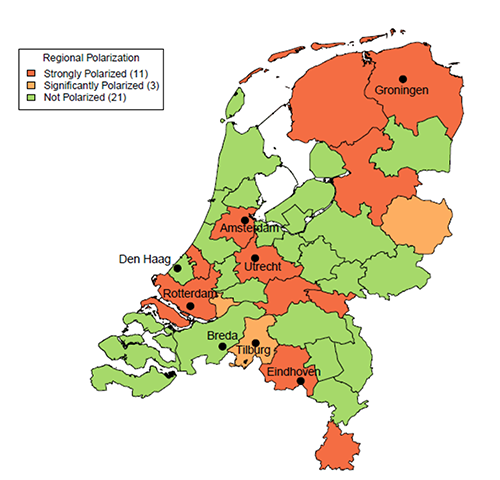 Furthermore, our sub-national analysis reveals considerable spatial heterogeneity among local labor markets. The degree of urbanization plays an important role; regions that are initially more urbanized are more likely to exhibit polarization. Finally, using a skill-based approach we report evidence supporting the routinization hypothesis as an important source of polarization.