June 14, 2017
CPB's short-term forecasts June 2017
The lights are green for the economy of the Netherlands; it is growing and employment is increasing, leading to a decrease in unemployment to 4.7%. The government budget will result in a surplus, for both 2017 and 2018 . Wage and price developments, however, are expected to lag behind.
Main conclusions
Read the accompanying press release.
Fan Charts
Take a look at the Fan Charts.
Economic growth in the Netherlands, 2008-2018
>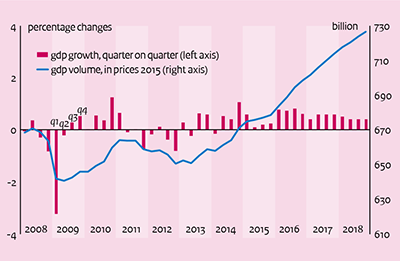 Table 'Main economic indicators', 2015-2018
International items
2015
2016
2017
2018
Relevant world trade volume goods
and services (%)

3.8

2.9

3.8

4.0

Export price competitors (goods and
services, non-commodities, %)

8.0

-3.1

0.9

1.3

Crude oil price (dollar per barrel)

51.9

43.3

50.8

50.6

Exchange rate (dollar per euro)

1.11

1.11

1.08

1.09

Long-term interest rate the
Netherlands (level in %)

0.7

0.3

0.5

0.5

GDP and demand (volume)
2015
2016
2017
2018
Gross domestic product
(GDP, economic growth, %)

2.0

2.2

2.4

2.0

Consumption households (%)

1.8

1.7

1.8

2.0

Consumption general government (%)

0.2

1.0

1.1

1.3

Capital formation including
changes in stock (%)

6.2

5.4

5.5

2.7

Exports of goods and services (%)

5.0

3.4

3.9

4.1

Imports of goods and services (%)

5.8

3.7

4.2

4.3

Prices, wages and purchasing power
2015
2016
2017
2018
Price gross domestic product (%)

0.1

1.0

1.2

1.5

Export price goods and services
(non-energy, %)

0.7

-0.7

0.8

1.1

Import price goods (%)

-5.1

-4.5

4.2

0.6

Inflation, harmonised index of
consumer prices (hicp, %)

0.2

0.1

1.4

1.4

Contractual wages market sector (%)

1.3

1.5

1.7

2.0

Purchasing power, static, median,
all households (%)

1.1

2.6

0.3

0.2

Labour market
2015
2016
2017
2018
Labour force (%)

0.4

0.4

0.9

1.1

Active labour force (%)

1.0

1.3

2.0

1.3

Unemployment
(in thousands of persons)

614

538

444

427

Unemployed rate (% of the labour force)

6.9

6.0

4.9

4.7

Market sector
2015
2016
2017
2018
Production (%)

2.8

2.8

3.2

2.4

Labour productivity (hours, %)

1.6

0.2

0.6

1.2

Employment (hours, %)

1.2

2.6

2.5

1.1

Compensation per hour (%)

0.2

0.9

2.8

2.8

Labour share in enterprise income
(level in %)

77.1

76.9

77.8

78.0

Other items
2015
2016
2017
2018
Private savings (% of disposable
household income)

0.2

-0.1

0.2

0.5

Current-account balance
(level in % GDP)

8.5

7.7

7.2

7.1

Public sector
2015
2016
2017
2018
General government financial balance
(% GDP)

-2.0

0.4

0.5

0.7

Gross debt general government
(% GDP)

65.1

62.2

58.5

55.4

Taxes and social security contributions
(% GDP)

37.7

39.0

39.3

39.2