This publication is in Dutch, there is no English translation!
Drie herstelscenario's voor de periode 2014-2023
Dit achtergronddocument bespreekt in meer detail de cijferbeelden van de drie scenario's voor de Nederlandse economie die in hoofdstuk 8 van het CPB Boek Roads to Recovery op hoofdlijnen zijn toegelicht.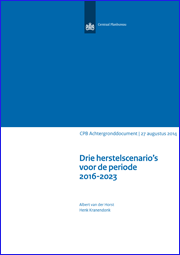 Deze publicatie bespreekt uitvoerig de factoren die bepalend zijn geweest voor de lage economische groei in de periode 2008-2013 en biedt vanuit verschillende invalshoeken een blik op de toekomst. Paragraaf 1 van dit achtergronddocument geeft een korte typering van de drie scenario's die onderling verschillen in de mate waarin het herstel zich zal voltrekken. De aanbodzijde van de economie wordt in paragraaf 2 toegelicht aan de hand van de factoren die de potentiële groei bepalen, gevolgd door een kort overzicht in paragraaf 3 van een aantal belangrijke aannames en exogene variabelen. De scenario's voor de (feitelijke) bbp-groei, de arbeidsmarkt en de overheidsfinanciën komen in paragraaf 4 aan de orde.
Zie het CPB Boek 'Roads to Recovery' en de Achtergronddocumenten 'Drie scenario's voor Europees economisch herstel' en 'De Nederlandse arbeidsmarkt tijdens de Grote Recessie'.