Central Economic Plan (CEP) 2017
Central Economic Plan 2017 published, budget surplus; inflation dampens purchasing power
Press release
The Dutch economy is showing a robust level of growth. CPB Netherlands Bureau for Economic Policy Analysis calculated a growth of 2.1% for this year and 1.8% for 2018. Both years are expected to show a budget surplus and unemployment will continue to decrease. At the same time, increasing inflation will have a dampening impact on purchasing power. The economic prospects are also favourable for the medium term (20182021). Over this period, the economy will grow an average 1.7%, per year, and government finances are in order. This is concluded in the Central Economic Plan (CEP) 2017, published today.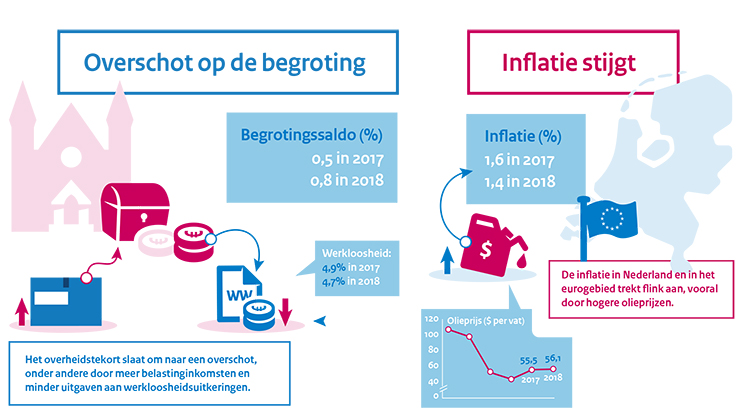 The Dutch economy will be receiving impulses in several areas, in 2017 and 2018. Exports will continue to do well, and companies will increase their investments. In addition, households (consumption), housing investments and government spending will also contribute to growth. Unemployment will drop this year to 4.9%, and in 2018 to 4.7%. Higher energy tariffs and natural resource prices will cause inflation in the entire eurozone to go up. For the Netherlands, this means an increase in inflation of 1.6% this year and 1.4% in 2018. The increasing inflation and ending of the 2016 policy package to ease the financial burden will lead to lower increases in median purchasing power in both this year and the next, compared to the 2014-2016 period.
Government finances
For this year, the government budget surplus is projected at 0.5% of GDP, increasing to 0.8% in 2018. This improvement is mainly due to substantially increasing tax revenues and decreasing expenditure on unemployment benefits. Declining natural gas revenues (lower production and lower prices) have the opposite effect. In 2017, for the first time since 2010, the government debt — at 58.5% of GDP — will be below the European debt ceiling of 60% of GDP, decreasing further in 2018 to 55.5%.
Global economy
Economic recovery is expected to continue, on a global level, particularly because of relatively high economic growth in emerging economies in Asia. Growth in the United States is robust, and projections for the short term are favourable. Economic growth in the eurozone is projected at 1.7%, for both this year and the next. Unemployment will decline in many EU countries, although it will still be above the long-term average. In the coming years, economic prospects, both on the global and the European level, will be surrounded by risks and uncertainty. This, among other things, is due to national elections in various EU Member States, implementation of the Brexit, and uncertainties about the policy of the new US Federal Government with respect to trade and regulation of the financial sector.
Medium term
Over the 2018-2021 period, the Dutch economy is projected to grow by an average 1.7% per year, which is shown in the actualisation of the medium-term outlook as included in the CEP. Employment and labour supply are increasing, in tandem, resulting in a stable 4.7% unemployment over this period. Interest rates and inflation will go up slightly, but remain low. The government budget by 2021 will have a surplus of 1.3% of GDP. Economic growth combined with a budget surplus will lead to a decrease in government debt, down to 46,6% by 2021. The sustainability balance, which indicates whether the current level of public services will be tenable in the long term, shows a surplus of 0.5% of GDP. As a result, the budget balance for 2021 and sustainability will improve by a respective 0.4 and 0.1 percentage points, compared against the most recent projections (MEV, September 2016), which also served as a basis for the calculations of this year's election manifestos.
Structurally lower growth
For the coming decades, the growth potential of the Dutch economy will be lower than in the years preceding the financial and economic crises, as is concluded in the CEP. 'Growth figures of 3%, 4% or even 5% are a thing of the past. Lower growth is the future, not only for the Netherlands, but also for many other western countries. This is the result, among other things, of population ageing and declining productivity growth. Stimulating potential growth is an option, but it can be intractable,' according to CPB Director Laura van Geest.
In drafting the Central Economic Plan 2017, CPB as always assumed unchanged government policy. The upcoming formation of a new Cabinet — and the subsequent new Government Agreement — will undoubtedly have an impact on economic prospects
The growth of the Dutch economy is robust with 2.1% this year and 1.8% in 2018. This growth is mainly driven by consumption and exports. Economic growth is coupled with increases in employment in the market sector as well as in health care. For this year, unemployment is projected to be 4.9% of the labour force, and for next year this will be 4.7%. Influenced by higher energy prices, inflation will increase to 1.6% this year, and 1.4% the following year. The decrease in unemployment and increase in inflation will cause contract wages to rise. For both 2017 and 2018, a moderate increase in median static purchasing power is projected, for both 2017 and 2018, of 0.1% and 0.3%, respectively, following the 2.7% increase in 2016. Last year's budget surplus is projected to increase further, to
0.8% of GDP by 2018, as continued economic growth will lead to higher revenues while government spending will lag behind.
The Dutch economy will grow with 1.7% on average in the period 2018-2021. The growth of labour supply and employment will be roughly equal, and hence unemployment will stabilise at 4,7%. Interest rates and inflation increase slightly, but remain low. The government budget balance will show a surplus of 1,3% in 2021 and government debt will decrease to 47% of GDP. The sustainability balance is in surplus, 0,5% GDP.