House prices and accessibility: Evidence from a natural experiment in transport infrastructure
This paper studies the impact of accessibility on house prices, based on a natural experiment in the Netherlands: the Westerscheldetunnel.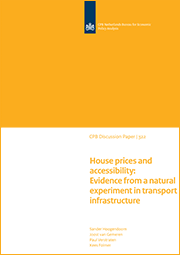 We exploit the fact that the opening of the tunnel caused a substantial shift in accessibility for people and firms in the connected regions. Our results indicate that the elasticity between house prices and accessibility is equal to 0.8. We also find support for the idea of anticipation: about half of the accessibility effect already materializes more than one year before the opening of the tunnel. Moreover, our analyses suggest that the impact of accessibility differs across regions.
Authors