September 15, 2015
Macro Economic Outlook (MEV) 2016
CPB publishes Macro Economic Outlook 2016
Press release
Today, CPB Netherlands Bureau for Economic Policy Analysis publishes its Macro Economic Outlook 2016. The Dutch economy is projected to grow, both this year and the next, by a respective 2.0% and 2.4%. Median purchasing power will increase, this year by 0.7% and next year by 1.4%.
The world economy and world trade are both experiencing a setback this year, but for next year, the growth in world trade is expected to accelerate. This acceleration is in line with leading indicators (e.g. those for producers and consumer confidence) in the eurozone, which point to continuing recovery supported by low oil prices and a depreciation of the euro. However, because of the recent decrease in world trade and the downward risks, such as that of a further cooling of the Chinese economy, the uncertainty around world trade growth is substantial. Furthermore, CPB concludes that the Greek debt problems are likely to require new agreements, in addition to the recently agreed third financial support package.

The Dutch economy is projected to grow in a large number of areas. Recovery will continue this year, despite the disappointing world trade level and the lower natural gas production. For next year, recovery will be supported by the improving world trade and a reduction of 5 billion euros in the financial burden, which is included in these projections. This package of measures will cause the economy to grow by an additional 0.2% next year. Consumption levels will rise due to an increase in disposable household income. In addition, a growth in investments and an improving housing market also contribute to economic growth. Because of the improving economy, employment in the market sector will increase, both this year and the next. Unemployment will decline to 6.9% this year and to 6.7% the following year, despite an increasing labour supply.

Median purchasing power is projected to increase by 0.7% this year and, due to the 5-billion-euro package of measures and the purchasing power decision for 2016, it will improve next year by 1.4%. The employed are benefiting the most, with 2.5%. Purchasing power of pensioners and social benefit recipients will rise by 0.2%. The government deficit will decrease to 2.1% of GDP in 2015 and to 1.4% in 2016.

The Macro Economic Outlook 2016 also includes an analysis of the budgetary policy of the past decade, based on three traditional budgetary functions: allocation, redistribution and stabilisation. The analysis contains a number of lessons. For example, the allocation of public means could be improved by holding policy experiments beforehand. Redistribution could be simplified by reducing the stacking of measures, and larger financial buffers are required to stabilise government impact on economic growth.

Go directly to the data.
September 15, 2015
CPBs short-term forecasts September 2015
Four times a year CPB publishes short-term forecasts. This is the third forecast of 2015, CPB's Macro Economic Outlook (MEV) 2016. CPB presents its analyses and forecasts of both the Dutch and worldwide economy in the years 2015 and 2016. MEV 2016 is only available in Dutch but you can download an English translation of chapter 1.
Main conclusions
Read the accompanying press release.
Fan Charts
Take a look at the Fan Charts.
Table 'Main economic indicators', 2013-2016
International items
2013
2014
2015
2016
Relevant world trade volume
goods and services (%)

2.2

3.9

2.8

5.4

Export price competitors
(goods and services,
non-commodities, %)

-3.2

-1.3

7.5

0.7

Crude oil price
(dollar per barrel)

108.7

99.0

57.2

60.1

Exchange rate
(dollar per euro)

1.34

1.33

1.10

1.09

Long-term interest rate the
Netherlands (level in %)

2.0

1.5

0.7

0.9
GDP and demand (volume)
2013
2014
2015
2016
Gross domestic product
(GDP, economic growth, %)

-0.5

1.0

2.0

2.4

Consumption households (%)

-1.4

0.0

1.6

1.9

Consumption general
government (%)

0.1

0.3

-0.4

0.8

Capital formation including
changes in stock (%)

-5.3

2.7

6.5

6.0

Exports of goods and
services (%)

2.1

4.0

3.7

5.1

Imports of goods and
services (%)

0.9

4.0

4.1

5.7
Prices, wages and purchasing power
2013
2014
2015
2016
Price gross domestic product (%)

1.4

0.8

0.8

1.0

Export price goods and
services (non-energy, %)

0.5

-0.7

1.6

1.1

Import price goods (%)

-1.6

-3.1

-3.0

1.9

Inflation, harmonised index
of consumer prices (hicp, %)

2.6

0.3

0.5

1.1

Contractual wages
market sector (%)

1.2

1.0

1.3

1.4

Purchasing power, static,
median all households (%)

-1.3

1.3

0.7

1.4
Labour market
2013
2014
2015
2016
Labour force (%)

0.8

-0.4

0.5

0.8

Active labour force (%)

-0.8

-0.6

1.0

1.1

Unemployment
(in thousands of persons)

647

660

620

605

Unemployed rate
(% of the labour force)

7.3

7.4

6.9

6.7
Market sector
2013
2014
2015
2016
Production (%)

-1.2

1.9

2.9

3.0

Labour productivity
(labour years, %)

-0.2

1.8

2.0

1.7

Employment (labour years, %)

-1.0

0.1

0.9

1.3

Compensation per employee (%)

1.7

1.9

0.8

2.6

Labour share in enterprise
income (level in %)

79.8

79.4

77.2

77.5
Other items
2013
2014
2015
2016
Private savings (% of
disposable household income)

-0.4

0.8

0.6

0.5

Current-account balance
(level in % GDP)

11.0

10.6

10.9

10.7
Public sector
2013
2014
2015
2016
General government financial
balance (% GDP)

-2.4

-2.4

-2.1

-1.4

Gross debt general
government (% GDP)

67.6

67.9

66.4

64.5

Taxes and social security
contributions (% GDP)

36.6

37.5

37.0

37.1
Economic growth in the Netherlands, 2008-2016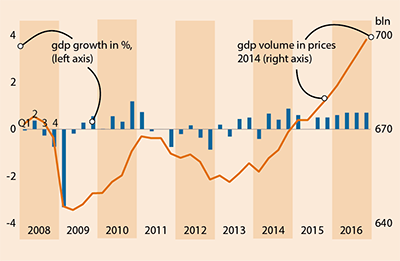 Related publication