The impact of co-payments for nursing home care on use, health, and welfare
Hogere eigen bijdrage verpleeghuis leidt tot uitstel van verpleeghuisopname
Press release
De stijging van de eigen bijdrage voor verpleeghuiszorg in 2013 leidde tot uitstel van verpleeghuisopname, met name onder ouderen van wie de eigen bijdrage fors steeg. Door het uitstel nam de thuiszorg licht toe. De totale collectieve zorguitgaven daalden. Wel nam de financiële onzekerheid voor ouderen toe. Dat blijkt uit het onderzoek 'Eigen bijdragen verpleeghuiszorg: effect op zorggebruik, gezondheid en financieel risico' van het Centraal Planbureau en de Erasmus Universiteit Rotterdam dat op 17 november is gepubliceerd.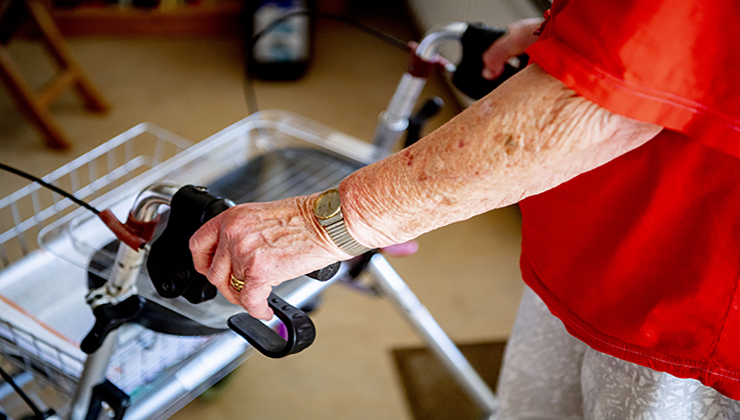 Om het effect van een eigen bijdrage voor verpleeghuiszorg te onderzoeken keken de onderzoekers naar het effect van de invoering van de vermogensinkomensbijtelling (VIB) in 2013. Voor iedere honderd euro extra eigen bijdrage per maand, daalde het gebruik van verpleeghuiszorg met 0,8 dagen. Ouderen van wie de eigen bijdrage fors steeg door de invoering van de VIB (met 600-1000 euro per maand) stelden hun verpleeghuisopname met gemiddeld 10 dagen uit.
Financiële en gezondheidsrisico's voor ouderen
De stijging in de maandelijkse eigen bijdrage was voor de meeste verpleeghuisbewoners relatief klein. Maar voor ouderen die langere tijd in een verpleeghuis wonen, kunnen de totale kosten gedurende het gehele verblijf behoorlijk oplopen. Omdat op voorhand niet bekend is hoe lang iemand in het verpleeghuis verblijft, levert dat voor ouderen extra financiële onzekerheid op. Een optie is het maximeren van de bijdragen die ouderen gedurende hun hele verblijf betalen. Dit draagt aan de ene kant bij aan efficiënt zorggebruik en de beheersbaarheid van publieke uitgaven en aan de andere kant blijft de financiële onzekerheid voor ouderen beperkt.
Een belangrijke kanttekening is dat het uitstel van verpleeghuiszorg voor sommige groepen, zoals ouderen met dementie en ouderen die geen mantelzorgers hebben, potentiële negatieve gezondheidseffecten tot gevolg heeft. Ook dit aspect moet worden meegewogen in het beleid rond de eigen bijdrage.
Over eigen bijdrage voor verpleeghuiszorg en de VIB
Verpleeghuisbewoners betalen een eigen bijdrage die afhangt van hun inkomen en vermogen. Deze eigen bijdrage verlaagt niet alleen de overheidsuitgaven, maar is ook bedoeld als prikkel om pas naar een verpleeghuis te verhuizen als dat echt nodig is. In 2013 verhoogde de VIB de maandelijkse eigen bijdrage voor ouderen met veel vermogen, terwijl de betalingen voor mensen met weinig vermogen gelijk bleven. In 2019 is de VIB verlaagd. Voor dit onderzoek is alleen gekeken naar de effecten van de invoering van de VIB in 2013.
In 2013, a reform (the vermogensinkomensbijtelling) increased co-payments for long-term care for people with financial wealth. A shown in a new empirical study, it induced older people to postpone nursing home use, but only by a few days on average. The reform reduced the financial pressure on the long-term care system, but at the cost of raising the financial risk of older adults.
With population aging, many countries seek to keep long-term care accessible while containing public spending. Co-payments play a role in balancing these goals by shifting parts of the costs to users and providing an incentive to only use necessary care. However, evidence on how co-payments affect care use, health and financial risk is limited.
A 100-euro increase in the monthly price of nursing home care lowers the time spent in a nursing home by 0.8 day. The offsetting increase in home care use is small and there is no overall effect on mortality. Because some people end up staying many years in a nursing home, the limited increase in the monthly co-payment induced a substantial rise in lifetime co-payments. A cap on lifetime co-payments would limit the associated financial risk while preserving the incentive to postpone an admission.
Contacts
Pieter Bakx (Erasmus University Rotterdam)
Bram Wouterse (Erasmus University Rotterdam)