Automatic Reaction – What Happens to Workers at Firms that Automate?
Acht procent van de werknemers verlaat bedrijf na automatisering
Press release
Er zijn relatief weinig werknemers die worden geraakt door automatisering: na vijf jaar verlaat ongeveer 8 procent het bedrijf als gevolg daarvan. Ongeveer 9 procent van de werknemers werkt in een bedrijf dat flink investeert in automatisering, zoals robots. Dit blijkt uit het zojuist verschenen onderzoek "Automatic Reaction: What Happens to Workers at Firms that Automate?", van het Centraal Planbureau (CPB), de Universiteit Utrecht, en Boston University. Het is de eerste keer dat de effecten van automatisering op individuele werknemers is onderzocht.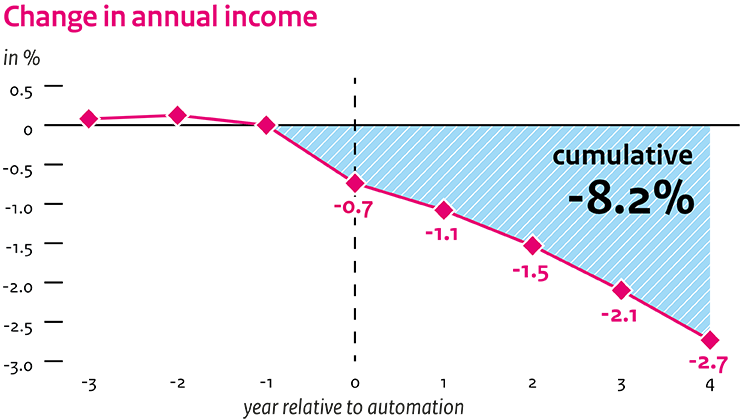 Werknemers die hun baan verliezen door automatisering, ervaren een verlies in inkomen van ongeveer de helft van één bruto jaarloon in vijf jaar. Zij vinden vaak wel een andere baan tegen hetzelfde loon, maar door een periode van werkloosheid hebben zij minder inkomen. Dat werknemers uiteindelijk weer werk vinden, komt doordat automatisering leidt tot een groei van banen elders. Het is dus niet zo dat automatisering per saldo tot baanvernietiging leidt, zoals vaak wordt gedacht.
We provide the first estimate of the impacts of automation on individual workers by combining Dutch micro-data with a direct measure of automation expenditures covering firms in all private non-financial industries over 2000-2016. Using an event study differences-indifferences design, we find that automation at the firm increases the probability of workers separating from their employers and decreases days worked, leading to a 5-year cumulative wage income loss of about 8% of one year's earnings for incumbent workers.
We find little change in wage rates. Further, lost wage earnings are only partially offset by various benefits systems and are disproportionately borne by older workers and workers with longer firm tenure. Compared to findings from a literature on mass layoffs, the effects of automation are more gradual and automation displaces far fewer workers, both at the individual firms and in the workforce overall.