This document is in Dutch, there is no English translation.
May 27, 2021
Brave new data – Databeleid in een imperfecte wereld
Data vormen een steeds belangrijker onderdeel van de economie en bieden kansen om maatschappelijke uitdagingen op te lossen. De markt voor data werkt echter niet goed doordat keuzes van individuele consumenten en organisaties impact hebben op anderen (externe effecten) en door ongelijke machtsverhoudingen. Als gevolg wordt soms te veel data verzameld en gedeeld – bijvoorbeeld privacygevoelige data – en soms juist te weinig, zoals data voor wetenschappelijk onderzoek. In de publicatie 'Brave new data' verkennen CPB-onderzoekers bouwstenen voor nieuw databeleid, waaronder het verschuiven van keuzebevoegdheid naar collectieven, bijvoorbeeld een groep consumenten, en direct overheidsingrijpen.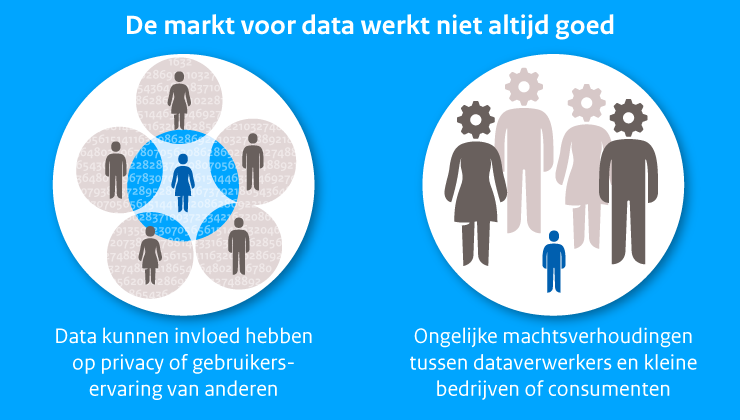 May 27, 2021
Policy Options for the Data Economy – a Literature Review
The data economy has drastically altered our lives in the last two decades. Search engines and smartphones have become ubiquitous. Sharing of data is a key element of the data economy. Often, individual consumers and organizations decide themselves whether to share data or not. Individual decision making forms the starting point of data policy. The choice to share data, however, also impacts others. Privacy of individuals, for example, is increasingly intertwined. From a societal point of view, we sometimes share too much data while in other instances we share too little. What alternatives do we have for organizing the data economy?
Scientists are trying to answer this question. In this Background Document we review the economics literature on this topic. We analyze the data value chain and study how data change economic costs. There are several market failures, such as externalities and unbalanced market power, that distort the working of the data economy. To address these market failures several policy options in the data economy are conceivable. Leveraging collective action in policy design, as an alternative to the traditional focus on informed individual decision making, increases the likelihood of realizing optimal social outcomes.