CPBs short-term forecasts December 2011: The Netherlands in a recession
The Dutch economy is in recession. In 2012, GDP is expected to decline by ½ percent, while the unemployment level increases by 90.000 persons, to 5¼ percent of the labour force. The budget deficit goes down to 4.1% in 2012, which is less than previously expected due to the worsened economic prospects.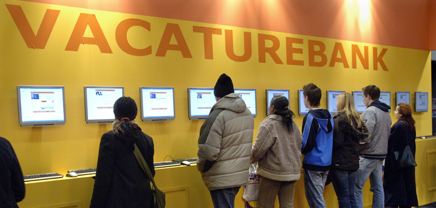 Main conclusions
Read the accompanying press release.
The table 'Extended main economic indicators'
International items
2009
2010
2011
2012
Relevant world trade (vol. %)

-13.4

11.1

3 3/4

-3/4

Import price goods (%)

-7.3

7.3

5

1 3/4

Export price competitors (%)

-4.8

7.7

5 1/2

0

Crude oil price (Brent, $)

61.5

79.5

112

112

Exchange rate (dollar p euro)

1.39

1.33

1.40

1.38

Long-term interest rate
(level in %)

3.7

3.0

2.9

2.7
Demand and foreign trade (volume)
2009
2010
2011
2012
Gross domestic product
(GDP, economic growth) (%)

-3.5

1.7

1 1/2

-1/2

Value gross domestic
product (GDP) (bln euro)

571.1

588.4

604

613

Private consumption (%)

-2.6

0.4

-3/4

-1/2

Public demand (%)

4.8

0.7

0

-1

Gross fixed investment,
private non-residential (%)

-12.4

-1.4

6 1/4

-6

Exports of goods
(non-energy) (%)

-9.3

12.8

5 1/4

-1/2

of which domestically
produced (%)

-10.5

9.4

2 1/2

-1 1/4

re-exports (%)

-8.2

15.8

7 1/2

0

Imports of goods (%)

-9.7

12.6

3 1/2

-1 1/2
Prices, wages and purchasing power
2009
2010
2011
2012
Export price goods
(excluding energy) (%)

-5.2

4.4

1

1/4

Price competitiveness (%)

1.9

1.8

1

1/2

Consumer prices (CPI) (%)

1.2

1.3

2 1/4

2

Consumer prices
(harmonised, HICP) (%)

1.0

0.9

2 1/2

2

Price of gross
domestic product (%)

-0.4

1.3

1 1/4

1 3/4

Price of national
expenditure (%)

0.7

1.4

1 1/4

2 1/2

Contractual wages
market sector (%)

2.7

1.0

1 1/2

1 3/4

Compensation per full-time
employee market sector (%)

2.2

1.5

2 1/2

3 1/4

Gross wage Jones family
(in euro's)

32500

32500

33000

33000

Purchasing power (Jones,
one-income household) (%)

1.8

-1.3

-1 1/2

-2

Purchasing power, static,
(median, all households) (%)

1.7

-0.5

-1

-1 1/4
Labour market (international definition 'labour force', unless stated differently)
2009
2010
2011
2012
Population (x 1000 pers.)

16530

16615

16690

16765

Labour force (15-74)
(x 1000 pers.)

8772

8748

8735

8815

Employed labour force
(15-74) (x 1000 pers.)

8445

8358

8345

8340

Unemployment
(x 1000 pers.)

327

390

385

475

Employed Persons
(15-74) (%)

-0.7

-0.3

1/4

-1/2

Labour force
(15-74) (%)

0.7

-0.3

-1/4

1

Employed labour
force (15-74) (%)

0.1

-1.0

-1/4

0

Unemployment rate
(% labour force)

3.7

4.5

4 1/2

5 1/4

Idem, national definition
(% labour force)

4.8

5.4

5 1/2

6 1/2
Market sector
2009
2010
2011
2012
Production (%)

-5.1

1.3

2

-3/4

Labour productivity (%)

-3.0

3.0

2

1/2

Employment (labour years) (%)

-2.2

-1.6

0

-1

Price gross value added (%)

2.5

2.2

1/4

1 1/4

Real labour costs (%)

-0.3

-0.6

2 1/4

2 1/4

Labour share in
enterprise income (level in %)

81.1

78.7

78 1/4

79 3/4

Profit share (of
domestic production)
(level in %)

7.5

7.7

9 1/2

7 1/2
General government
2009
2010
2011
2012
General government financial
balance (% GDP)

-5.6

-5.1

-4.6

-4.1

Gross debt general
government (% GDP)

60.8

62.9

65.2

68.2

Taxes and social security
contributions (% GDP)

38.3

38.8

38.3

38.9
Economic growth in the Netherlands, 2008-2012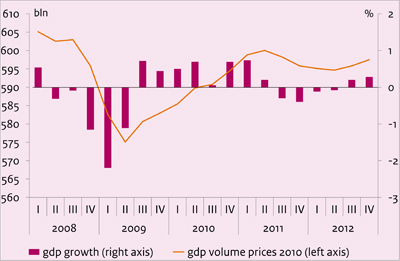 Related publication