World trade grew in 2022, despite the war in Ukraine
In December 2022, world trade decreased with 0.9% compared to November 2022, according to the monthly World Trade Monitor of the CPB. Over the whole of 2022, world trade has grown by 3.2%, despite Russia's invasion of Ukraine.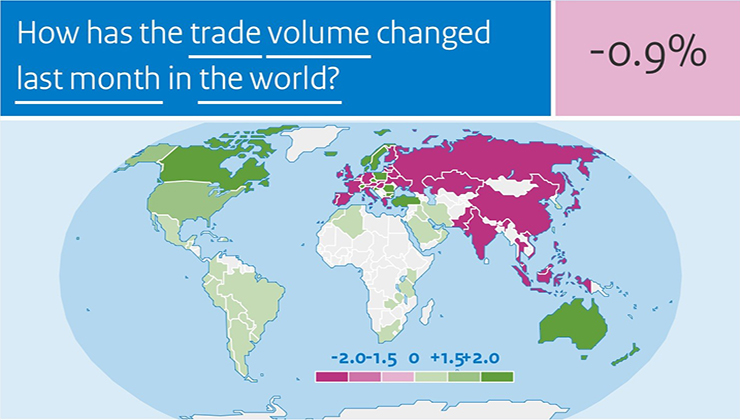 Russia's imports and exports have decreased last year. Trade with the European Union (EU) in particular has declined. The EU has traditionally been Russia's largest trading partner, which mainly imports goods from the EU and exports oil and gas to the EU. After Russia invaded Ukraine, a package of sanctions was announced. Luxury goods or goods that can be used for a military purpose may no longer be sold to Russia. In addition, a number of sanctions apply to the export of services (such as IT advice, market research, engineering services). However, Russia has started trading more with China, until recently its second largest trading partner. That country has now become Russia's largest trading partner.
However, China's total trade in 2022 has decreased compared to 2021. The strict zero-Covid policy and the related lockdown measures have contributed to this. In addition, the West has largely let go of lockdowns and contact-limiting measures in 2022, resulting in a shift in demand from goods to services. The demand for (durable) consumer goods from China, among others, has therefore declined.
Trade in December
The decline in trade in December 2022 is broad-based. Both imports and exports decreased in the eurozone, Japan, China and the rest of Asia. Exports from the United Kingdom (-6.1%) and Latin America (-3.5%) also show a decline. A notable exception is the United States, which shows an increase for both imports (+2.0%) and exports (+1.6%).
The monthly CPB World Trade Monitor is an instrument with which CPB monitors the development of world trade, and is published on behalf of the European Commission. It takes two months before the figures are available.