World trade recovery continues in October
In October 2020, world trade grew again by 0.7% compared to September 2020. Due to continued growth in world trade since June, trade growth is still about 0.7% below the level at the end of 2019. The growth in October is, however, a lot lower than in September, when world trade increased by 2.7%. This is shown in the recently published World Trade Monitor of the CPB. The months of November and December, which saw a rapid spread of COVID-19, can still have a negative impact on world trade, but the CPB has no data on this yet.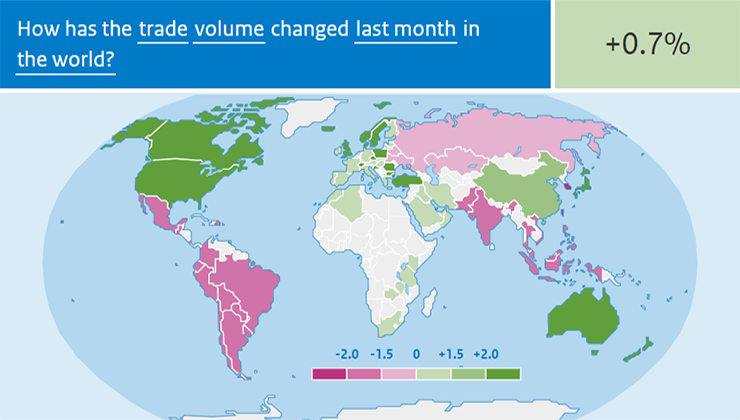 After a strong recovery in import growth in September, advanced and emerging Asian countries and China imported less in October (-2.8%, -1.9% and -1.5% respectively). These Asian countries also exported less (-4.5% and -1.9% respectively). However, Japan and China showed solid export growth of 4.5% and 4.8% respectively. China in particular is still benefiting from the increased demand for personal protective equipment and electronics (for home working).

The eurozone and the United States both show growth in imports (1% and 2.4% respectively) as well as exports (1.7% and 2.7% respectively).

Global industrial production also increased further by 0.7% in October compared to September. All regions contribute to this, except developed Asia (excluding China) and Eastern Europe.
The monthly CPB World Trade Monitor is published on behalf of the European Commission. It takes two months for the figures to be available.
Look at the CPB World Trade Monitor.