More environmental benefits with recycling #how?
The use of secondary raw materials can generate significant environmental benefits when compared to the use of primary raw materials. However, markets for secondary raw materials do not function well due to market and governmental failure in the primary and secondary markets. Primary raw materials are too cheap, because there are no pricing policies in place for environmental damage. There are also unexploited economies of scale, market failures in 'green innovation', information problems that result in lower quality of waste supplied , and high transaction costs, particularly when it comes to household waste. In addition, government policies to combat these market failures, sometimes create barriers.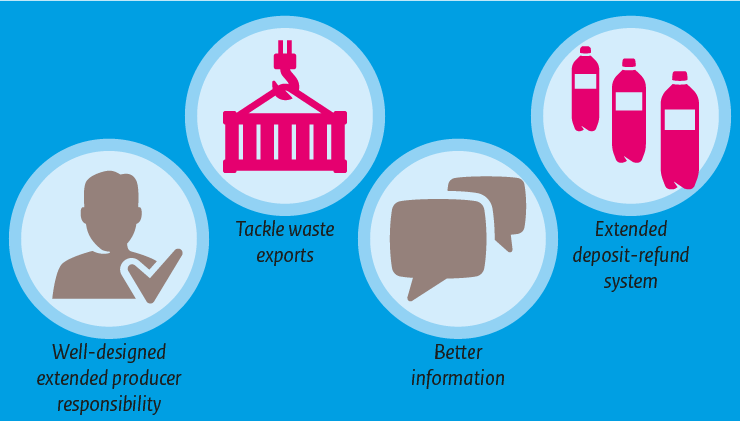 Due to the relatively low quality of the waste, 'downcycling' is now mainly practised to produce low-grade products, the environmental benefits of which are lower than those of recycling the material into a 'similar' product. In the case of plastic packaging, it is the diversity of the material that plays a particularly important role in the resulting low quality of waste. In the case of textiles and paper, the increased pollution of collected waste is becoming a problem. More polluted waste streams are less usable, which puts pressure on both the yield and the environmental benefits.
Export of waste to some countries can lead to environmental leakage.
As a result of less restrictive environmental legislation in some countries, the processing of this waste can lead to more damage to the environment and population health elsewhere. Some environmental effects, such as plastic soup, a term used to describe the pollution of the seas by waste plastic, are global in nature.
Extended producer responsibility (EPR) can improve the quality of supply and the demand for secondary raw materials by applying tariff differentiation. This involves producers and importers paying less for products that are more easily recyclable, or that partly consist of recycled material. The design of EPR, the transaction costs, and monitoring costs are key issues. Funds collected with EPR can be used to promote innovation.
Preventing the export of plastic packaging waste to a number of countries by means of an export tax or ban can reduce the environmental damage caused by dumping. Such countries already engage in practices that involve a large proportion of their own plastic waste being landfilled or dumped. There is a very good likelihood that some of the separated plastic waste that we export will also be dumped. The costs, legal complications, and difficulties involved in regulating exports and feasibility because of, for example, the option of transit through another country, are areas of concern.
Deposit-refund systems provide an incentive to combat litter. Plastic litter negatively impacts the environment, especially due to its long lifespan. Deposit-refund systems also provide a more useful input for 'high-quality' recycling than other forms of waste collection. Further research may reveal whether the benefits of extending deposit-refund systems to plastic articles that more frequently end up as litter actually outweigh the costs that are involved.
Informing consumers and businesses as well as practicing waste collection methods that reduce pollution, can improve the quality of the collected waste. Providing information to households on how to separate waste could contribute to reducing the increased pollution of separately collected flows. Pollution can also be reduced by using other forms of collection. For example, the contamination of textiles collected from underground containers is increasing sharply.
Government policies aimed at volume may have adverse effects on the quality of secondary raw materials. For instance, policies to limit the amount of residual waste can lead to more pollution of source-separated streams (such as paper and textiles), and targets to recycle as much household plastic waste as possible can lead to a more poorly usable material stream.