Forecast September 2019 (MEV 2020)
Ill winds sweeping in from abroad will dampen growth in 2020
Press release
Dutch economic growth is slowing down as a result of negative foreign developments. Unemployment will reach its lowest level in 2019, but will still also be exceptionally low next year. Purchasing power will see a positive development in 2020, due to both the increase in real wages and cost reductions. The government budget will remain in surplus, but this surplus will be reduced. This is concluded in the Macro Economic Outlook 2020 (MEV), which has just been published by CPB Netherlands Bureau for Economic Policy Analysis. The annual MEV forms the macroeconomic foundation for the Dutch Government's Budget Memorandum.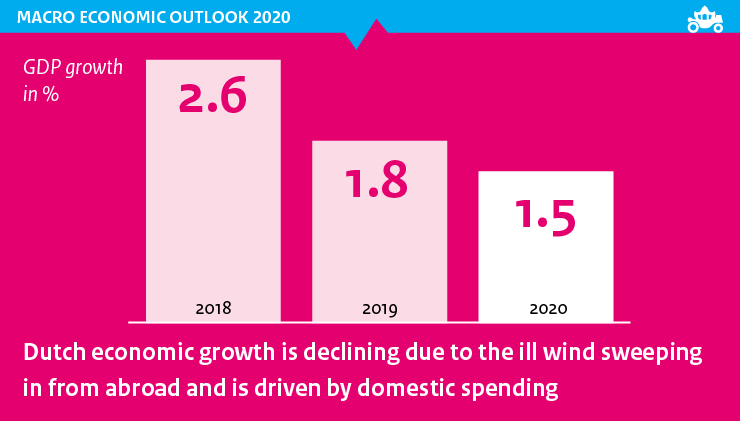 Economic growth and the increase in purchasing power are higher than according to CPB's concept projections (cMEV) published in August. This is due to the fact that now the Dutch Cabinet's decisions have been taken into account. The projected economic growth for 2020 has been adjusted upwards by 0.1 percentage point and, because of the additional tax cuts, the increase in purchasing power has been adjusted upwards, on average, by 0.9 percentage points.
The analysis in this Macro Economic Outlook examines what the currently low interest rates mean for the budget policy. Laura van Geest, Director of CPB: 'The national debt is under control, interest rates are exceptionally low. This leaves room for temporary, targeted spending on public investments or transition costs — assuming the required discipline on the part of the government to stop there'.
| | | | |
| --- | --- | --- | --- |
| | 2018 | 2019 | 2020 |
| GDP growth back to 1.5% | 2,6 | 1,8 | 1,5 |
| Unemployment at lowest point in 2019 | 3,8 | 3,4 | 3,5 |
| Inflation down in 2020 | 1,6 | 2,6 | 1,3 |
| Higher contract wage increases continue | 2,0 | 2,5 | 2,5 |
| Purchasing power increase continues in 2020 | 0,2 | 1,2 | 2,1 |
| Surplus on government budget becomes smaller | 1,5 | 1,2 | 0,3 |
The labour market is projected to remain tight. The slowdown in production growth this year is reflected in the weak development of labour productivity. In 2020, employment growth will decline in the face of a sustained increase in labour supply. As a result, the decrease in unemployment will come to an end.
The not insignificant downward risks to the economy have increased further. US trade policy and related consequences, the increased likelihood of a chaotic Brexit, and political developments in Italy form substantial threats to the Dutch economy.
The way the detailed figures on purchasing power are presented has changed. These September Projections for the year 2019 are presented in both the old and the new way (see downloads below). The key figures can be found here.
The global economy is slowing down due to increased uncertainty as a result of trade tensions. Global GDP growth is declining from 3.6% in 2018 to 3.1% in 2019 and 3.2% in 2020. As the growth in, particularly, import-intensive investments and sustainable consumer goods declines, the weakening of world trade is even more pronounced: from 4.3% in 2018 to 1.8% in 2019 and 2.3% in 2020. The slowdown in growth is mainly due to trade conflicts, which lead to major policy uncertainties.