Projections March 2023 (CEP 2023)
Purchasing power restored through wage growth, but more people living below the poverty line
Press release
Purchasing power will remain broadly unchanged on average this year and will rise by 2.0% next year. At the same time, poverty is set to increase next year. This is according to the latest projections by CPB Netherlands Bureau for Economic Policy Analysis in the Central Economic Plan 2023 (CEP) published on 9 March.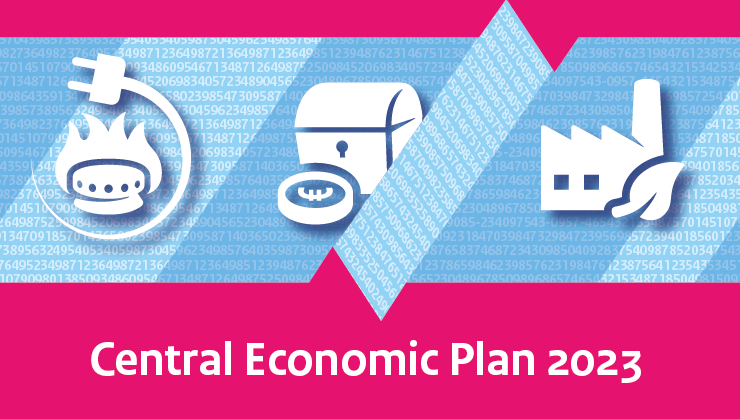 Energy prices have fallen sharply in recent months, but, on the other hand, inflation has spread to other goods and services. There is now clear momentum in wage growth, however. Purchasing power will remain unchanged on average this year, partly due to the support policy. It will recover next year, but is still set to show an overall decline in the 2021-2024 period. Poverty will rise to 5.8% of the population in 2024, as a number of temporary income measures for the lowest incomes are set to end next year in accordance with the currently stated policies.
Growth despite headwinds
The Dutch economy will grow by 1.6% and 1.4% respectively in 2023 and 2024, despite inflation, weaker international trade and falling house prices. The labour market is projected to remain tight, with unemployment rising only slightly to 4.1% in 2024.
Public finances
The EMU deficit will deteriorate sharply this year to 3.0% of GDP, mainly due to additional income support to compensate for higher energy prices. In 2024, the deficit will be 2.6% of GDP. For both years, it has been assumed that the government will be unable to spend all the budgeted funds, partly as a result of labour shortages. CPB nevertheless assumes that the government will be able to do so over the medium term. Coupled with the steady rise in interest charges, this will lead to a further deterioration in public finances, according to an outlook for the period up to 2031. After the current cabinet term, the deficit is projected to exceed 3% of GDP. EMU debt, which remains stable at around 50% of GDP in 2023 and 2024, then enters a rising trajectory, reaching 60% of GDP in 2031.
CPB Director Pieter Hasekamp: "We see a recovery in purchasing power now that inflation is falling, and wage growth is picking up. But the number of people living below the poverty line is set to rise again next year due to the ending of temporary government support. We also see the government deficit continuing to rise in the years ahead. That calls for much more targeted support than is currently the case."
| | | | |
| --- | --- | --- | --- |
| | 2022 | 2023 | 2024 |
| Growth holds up despite energy shock (GDP, growth %) | 4.5 | 1.6 | 1.4 |
| Labour market remains tight, unemployment rises slightly (% of labour force) | 3.5 | 3.9 | 4.1 |
| Purchasing power recovers next year due to higher wages (median, %*) | -2.7 | -0.2 | 2.0 |
| Poverty still rises due to termination of temporary policy (% in poverty*) | 4.7 | 4.7 | 5.8 |
| Public finances deteriorate due to additional expenditure (EMU balance, % of GDP) | -0.7 | -3.0 | -2.6 |
* purchasing power and poverty calculated using the alternative CPI, which takes account of the delayed impact of energy prices due to current energy contracts.