December 18, 2019
Forecast December 2019
Decelerating growth, persisting underinvestments
Press release
Economic growth is slowing down in the Netherlands due to the decline in global growth and, to a lesser extent, the issues around nitrogen and PFASs. Unemployment reached its lowest point in 2019, but will also remain exceptionally low in 2020. Labour market shortages are leading to an increase in contract wages. Inflation will slow down next year, as the impact of last year's increase in indirect taxes fades away. The budget surplus is projected to decline as a result of expansionary policies and weaker growth, but the reduction is attenuated by significant underinvestment. The main risks to the Dutch economy relate to US trade policy and the Brexit, both this year and the next, but there are also domestic risks caused by the issues around nitrogen and PFASs.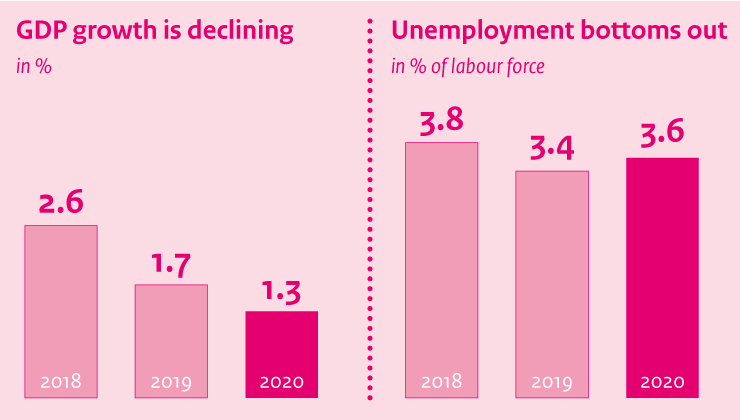 This is concluded by CPB Netherlands Bureau for Economic Policy Analysis in this year's December Projections. CPB Director Laura van Geest states: 'Although the economy is slowing down, the Netherlands is still doing well, compared to the eurozone. The issues around nitrogen and PFASs will not be without consequences for the affected sectors, but, for the Netherlands as a whole, the short-term effect will be only limited.'
| | | | |
| --- | --- | --- | --- |
| Main Economic Indicators | 2018 | 2019 | 2020 |
| GDP growth slowing down, below the normal pace | 2.6 | 1.7 | 1.3 |
| Unemployment will remain low | 3.8 | 3.4 | 3.6 |
| Inflation, following the tax impact in 2019, will revert back to a moderate level | 1.6 | 2.7 | 1.4 |
| CAO wage rises increasing (1) | 2.0 | 2.5 | 2.8 |
| Purchasing power increasing further | 0.1 | 1.0 | 2.1 |
| Government budget surplus declining | 1.5 | 1.4 | 0.8 |
A positive development is projected for purchasing power in the coming year, due to increases in real wages and reductions in the financial burden. On average, purchasing power will increase by 2.1% in 2020. As a result of the announced exemption scheme for pension funds with a solvency ratio of at least 90%, the implementation of pension cuts and increases in premium payments, at most pension funds, will be postponed until 2021. For the coming year, the increase in the purchasing power of pensioners is estimated at 1.0%. Although pensioners will benefit from reductions in the financial burden, their supplementary pension will hardly be indexed.
For 2020, the budget surplus is expected to be reduced on the back of expansionary policies and lower growth levels. At the same time, the budget will be less expansionary than envisaged, in both 2019 and 2020. The December Projections foresee underspending to the tune of EUR 4 billion in 2019 and EUR 3 billion in 2020, due to labour market shortages, nitrogen and PFAS issues and in light of the information in the Autumn Memorandum.
(1) CAO = Collective Labour Agreement
This forecast is published in CPB Policy Brief 'Decemberraming 2019' (only in Dutch).